◀

Completed projects
City of Québec
Québec relies on Visilec !
The City of Québec is keeping a close eye on its operating costs, without compromising the quality of the services it provides to residents. By adopting an energy efficiency policy, it has managed to cut the energy costs of the 565 buildings it has been operating since merging with neighboring municipalities.
All efforts so far have borne fruit, especially at the La Cité borough office, where an energy optimization program was carried out. The configuration of the building's central control system was no longer up to the task.
Visilec sets the tone
They needed to come up with an effective, inexpensive solution. At first, they considered setting up consumption and power demand recorders. But after talking about the Visilec service with a Hydro-Québec commercial officer, the City decided to sign up for it. The staff immediately had access to electricity use data for the preceding two years. An analysis revealed that the building's power demand was often too high, peaking at 710 kW; it was an opportunity for substantial energy savings. The City therefore decided to upgrade the central system and program it to handle the power demand.
A upgrade that has paid off!
By opting for Visilec, the Quebec City does it right! Good management of its power demand has enabled it to cut electricity costs by $15,000 in three months and recoup its investment at the same time.
Profile of La Cité borough office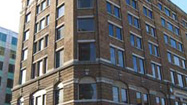 Year built: 1910
Building type: Seven storeys, 6,500 m2 (70,300 sq. ft.)
Occupants: 240
Service contract type: Rate M
Heating system: Coils, fan-coil heaters and electric baseboard heaters
Combine projects and savings
Since it has been using Visilec, the City of Québec has implemented energy-saving measures in 10 of its buildings, including office buildings and a pumping and wastewater purification station. Relying on data collected and analyzed, it spots irregularities, implements solutions and checks results, while at the same time training staff properly. Visilec is an essential tool because it enables the City to figure its energy costs month to month and avoid unpleasant surprises.
Numéro général
514 879-4841
ou 1 866 289-3618
---
See also