Bombardier Aerospace – Dorval
The Dorval plant achieved energy savings of nearly 6% by:
Replacing over 5,500 compact fluorescent bulbs with more energy efficient ones.
Overhauling its compressed-air system.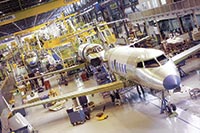 ---
Would you like to learn more about the Energy Savers' Circle?
Talk to your commercial officer, who will be happy to answer your questions.