Canada Pipe Company - Bibby-Ste-Croix - Ste-Croix
Bibby-Ste-Croix achieved electricity savings of 10% by optimizing its compressed air system.
Seven inefficient compressors were replaced by three new compressors designed to regulate system pressure according to the plant's requirements.
Dessicant air dryers were replaced by a refrigerant air dryer, which uses less compressed air in the air-drying process.
In addition, fans were used instead of compressed air to supply combustion air to equipment that bakes moulds used to manufacture cast-iron pipes.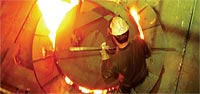 ---
Would you like to learn more about the Energy Savers' Circle?
Talk to your commercial officer, who will be happy to answer your questions.