Canada Post - Saint-Laurent
Canada Post reduced the electricity consumption of its mail processing plant in Saint-Laurent by nearly 7%.
The plant enhanced its lighting systems, making them more energy efficient.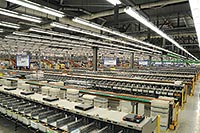 ---
Would you like to learn more about the Energy Savers' Circle?
Talk to your commercial officer, who will be happy to answer your questions.