PF Résolu Canada inc. – Jonquière
Abitibi-Consolidated – Kénogami Division lowered its power consumption by 5%.
After conducting an in-depth study of electricity use at its Jonquière plant, the company took steps to reduce the amount used by its motors, pumps and lighting systems.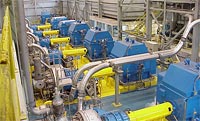 ---
Would you like to learn more about the Energy Savers' Circle?
Talk to your commercial officer, who will be happy to answer your questions.