Saputo - Bakery Division - Sainte-Marie-de-Beauce
Saputo reduced the electricity consumption of its Sainte-Marie-de-Beauce plant by 16%.
The Bakery Division carried out several projects including the optimization of its ventilation and cooling systems and oven heat recovery system to heat water and fresh air.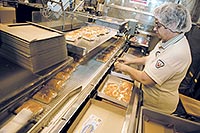 ---
Would you like to learn more about the Energy Savers' Circle?
Talk to your commercial officer, who will be happy to answer your questions.