Sun Life Assurances (Canada) Limitée – SITQ National, Sun Life Building
The Sun Life Building has joined the Energy Savers' Circle after reducing its annual electricity consumption by 7%. The building, opened in 1918, was the first skyscraper in Montréal, and was for a long time the biggest building in the British Empire. Today it's still one of the gems of downtown Montréal real estate.
While respecting the historic character of the building, the owners, Sun Life Assurance Company of Canada and SITQ National, and real estate managers Bentall Kennedy (Canada) LP have successfully implemented a number of energy efficiency measures. These include upgrading the lighting system and replacing the thermostats controlling the heat pumps.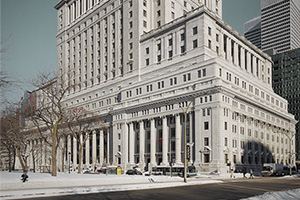 ---
Would you like to learn more about the Energy Savers' Circle?
Talk to your commercial officer, who will be happy to answer your questions.