Université de Montréal - École Polytechnique
École Polytechnique reduced its overall electricity consumption by 11%.
These energy savings were generated by initiatives implemented during construction of the Lassonde buildings.
Premium efficiency technologies and equipment are now used for heating, ventilation, cooling and lighting systems.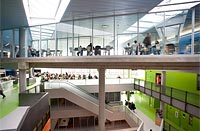 ---
Would you like to learn more about the Energy Savers' Circle?
Talk to your commercial officer, who will be happy to answer your questions.