Comparison of electricity prices
Comparison of electricity prices in major North American cities
Every year, Hydro-Québec compares the monthly electricity bills of Québec residential, commercial, institutional and industrial customers with those of customers of the various utilities serving 21 major North American cities.
Comparative Index of Electricity Prices
Consumption: 3,060,000 kWh/month
Power demand: 5,000 kW
---
Hydro-Québec = 100
Monthly bills (excluding taxes).
Rates in effect April 1, 2016.
Inflation and trends in energy prices in Quebec
All customer groups combined, 1963–2016
Index (1963 = 100)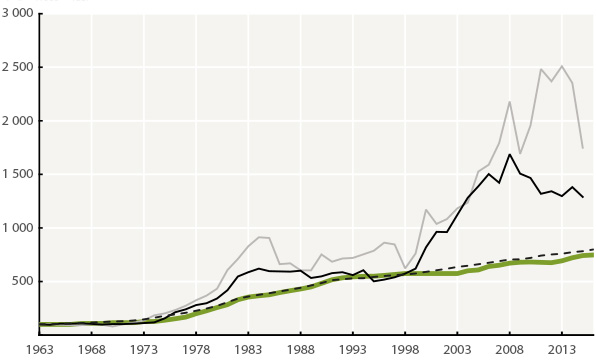 This graph illustrates inflation rates and energy prices in Québec from 1963 to 2016. Electricity prices follow the inflation curve, while oil and natural gas prices show greater fluctuations. To date, the Canadian Consumer Price Index is 779. The price index for electricity is 747, compared to 1,289 for natural gas and 1,749 for oil.
---
Sources : Régie de l'énergie, Bloomberg Oil Buyer's Guide and Statistics Canada (Data from 2015 for oil and gas).
---
See also