Building and renovating
Two great ways to be energy wise!
Planning on buying a new home or renovating your current one? Aim for better efficiency and save in the long term. This section contains tips and tools to undertake minor and major renovations to reduce your energy consumption.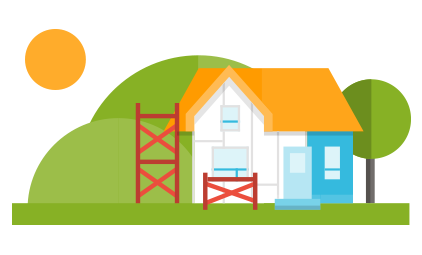 Planning renovations?
No matter the extent of your renovations, you have everything to gain from being energy wise and choosing efficient products.
Major renovations
The Rénoclimat® program created by Transition énergétique Québec (TEQ) provides support for renovation projects to help maximize your savings. Certified advisors are available to assess your home's energy efficiency and conduct a blower door test to quantify any air leaks. Based on the results, the advisor will give your home an energy rating and suggest retrofits to improve its efficiency.
Building a new home? Invest for the long term
Make your home efficient
Thinking about purchasing a new home? Take the opportunity to choose an energy-efficient model that will help you save money and energy. Speak with the builder and explore all the options available.
Efficient homes come with efficient products that consume much less energy than standard models. They're a worthwhile investment that's good for the environment!
Sustainable urban development
More and more, developers, contractors and municipalities are embracing sustainable values when building new subdivisions or revitalizing existing neighborhoods to reflect residents' concerns.
When creating ecodistricts, designers are guided by key values such as enhancing natural areas and fostering responsible water consumption, sustainable mobility, and energy savings. These elements provide a better quality of life and help preserve the environment.
In an effort to support the development of ecodistricts, Hydro-Québec provides financial assistance to developers, contractors and municipalities that carry out electricity-saving sustainable urban projects.
Want to live in an ecodistrict? Find out more (In French only)