Daniel-Johnson dam: A symbol of Québec ingenuity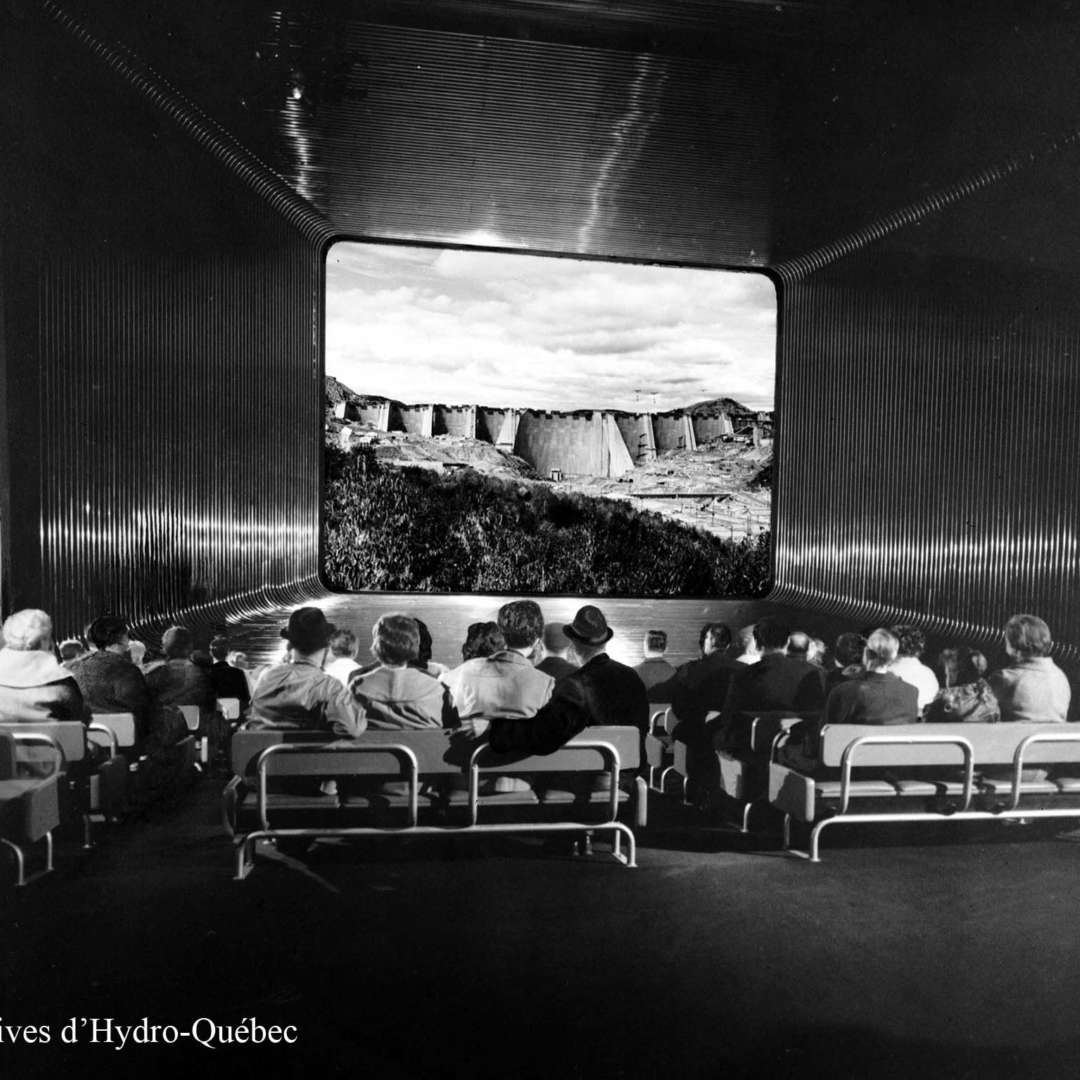 Armed with the expertise acquired on the Bersimis jobsites, Hydro-Québec embarked on an even more ambitious project: the Manic-Outardes complex. Its highly demanding project schedule included the construction of seven generating stations. Manic-5 is the most powerful of the seven, but it's the impressive dam that commands attention, becoming the symbol of the project.
Standing 214 metres high, the concrete dam with its 13 arches and 14 buttresses is etched into the collective imagination. At the 1967 World Exposition in Montréal, a giant screen was set up inside the Québec pavilion so that Quebecers and visitors from around the world could watch this majestic structure actually being built.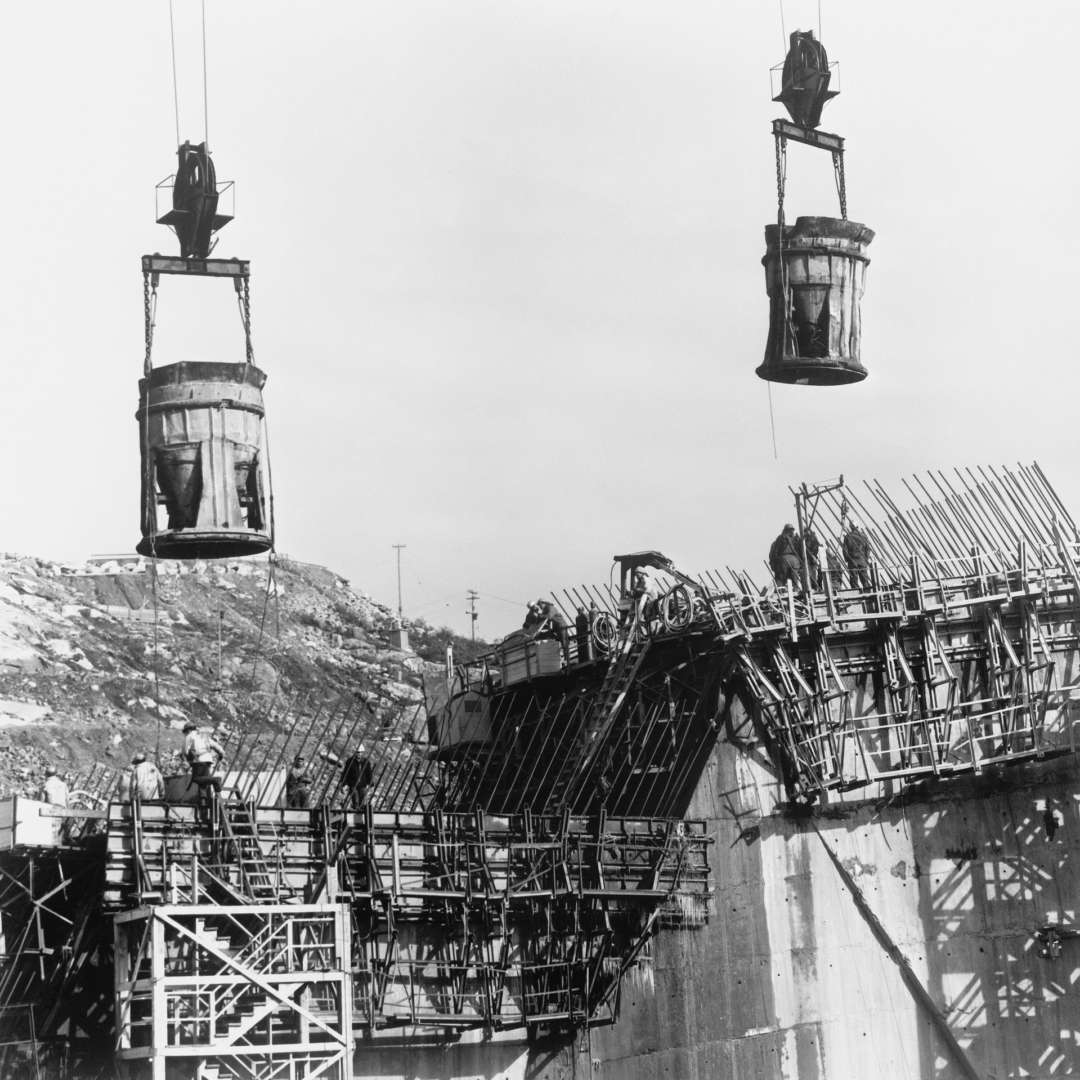 Concrete pouring at the Daniel-Johnson dam construction site, 1965.
©Hydro-Québec archives.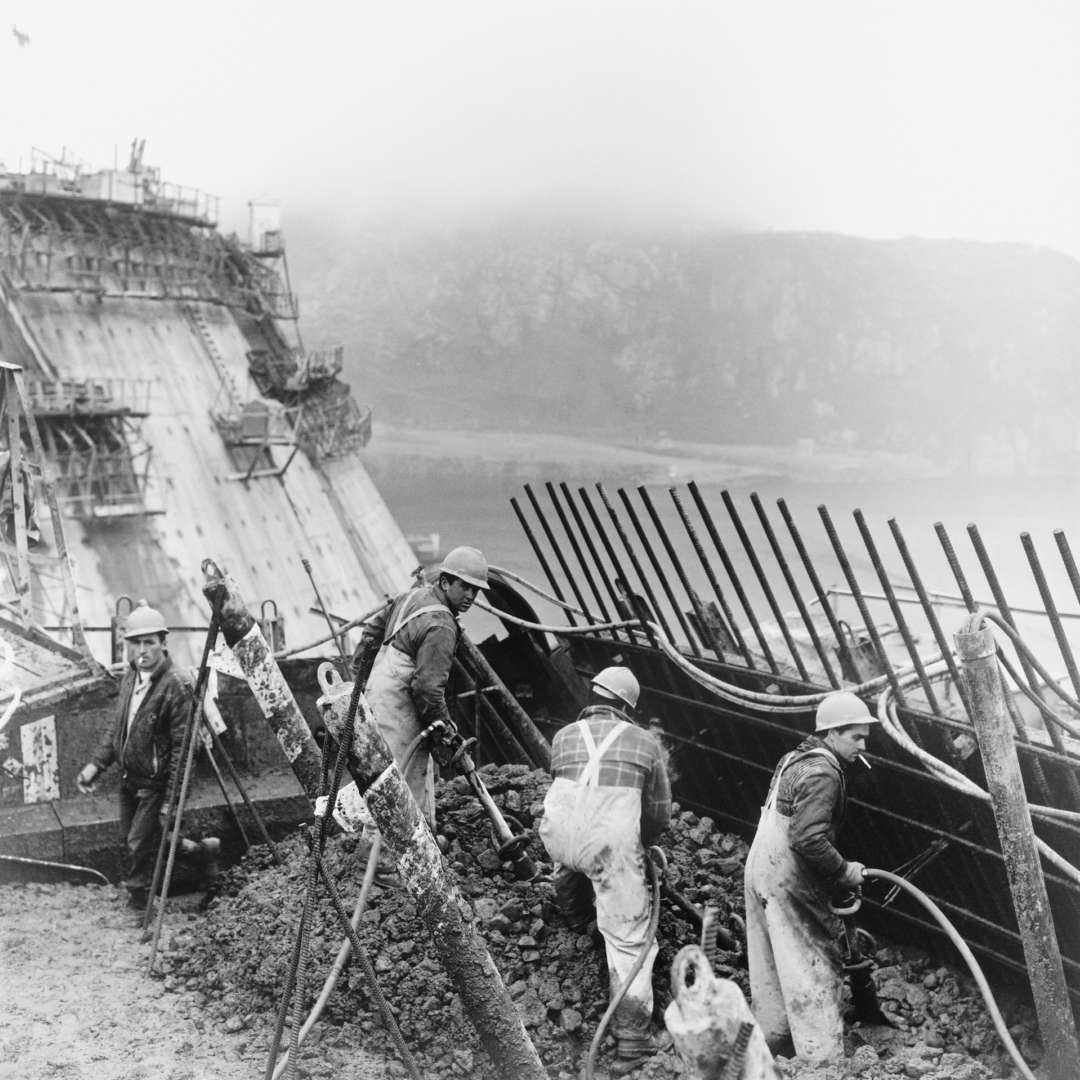 Workers using vibrating equipment to produce stronger concrete, 1965
©Hydro-Québec archives.
Manic-5 generating station under construction, 1968.
©Hydro-Québec archives.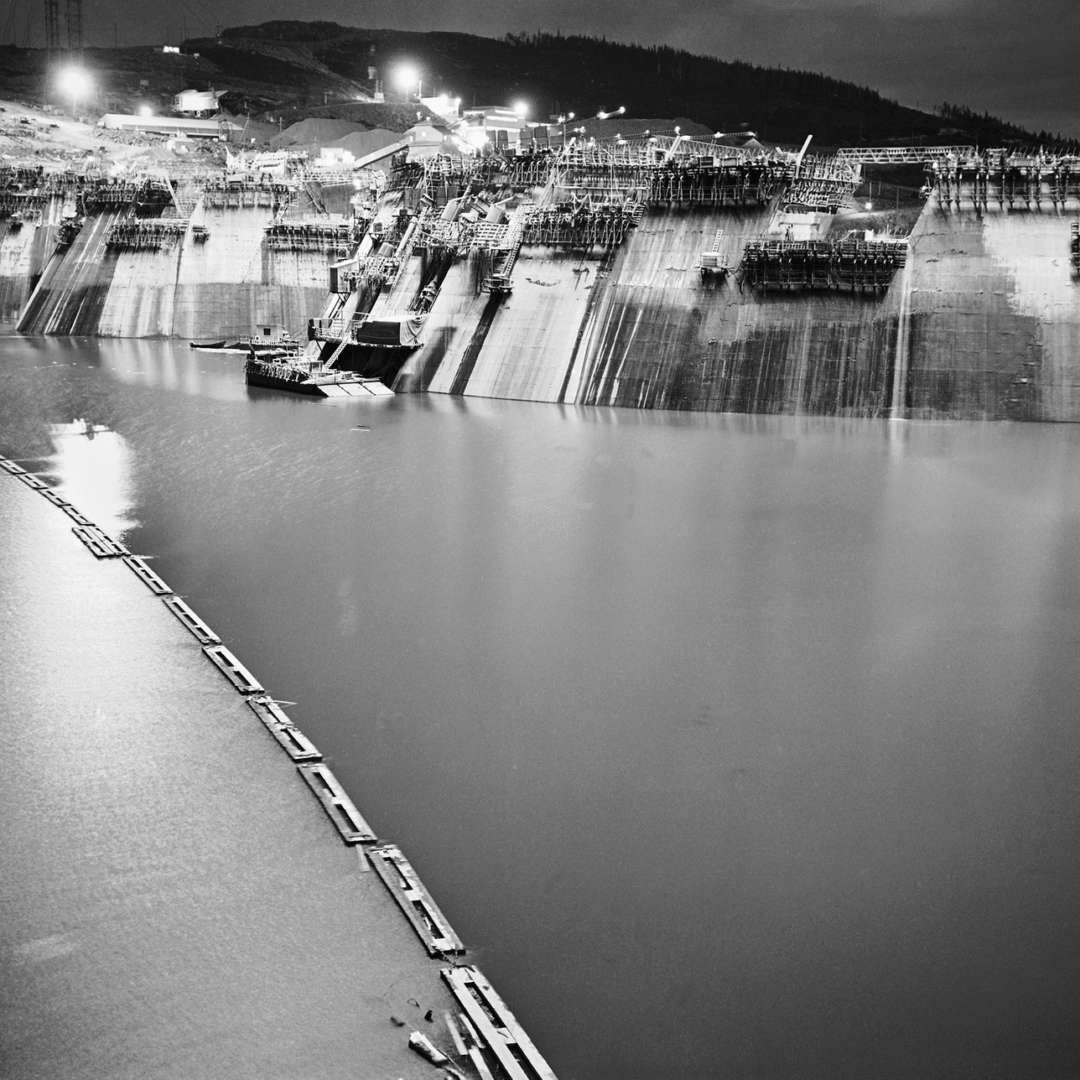 Night work on the dam, 1965. The Manic jobsite was in operation 24 hours a day.
©Hydro-Québec archives.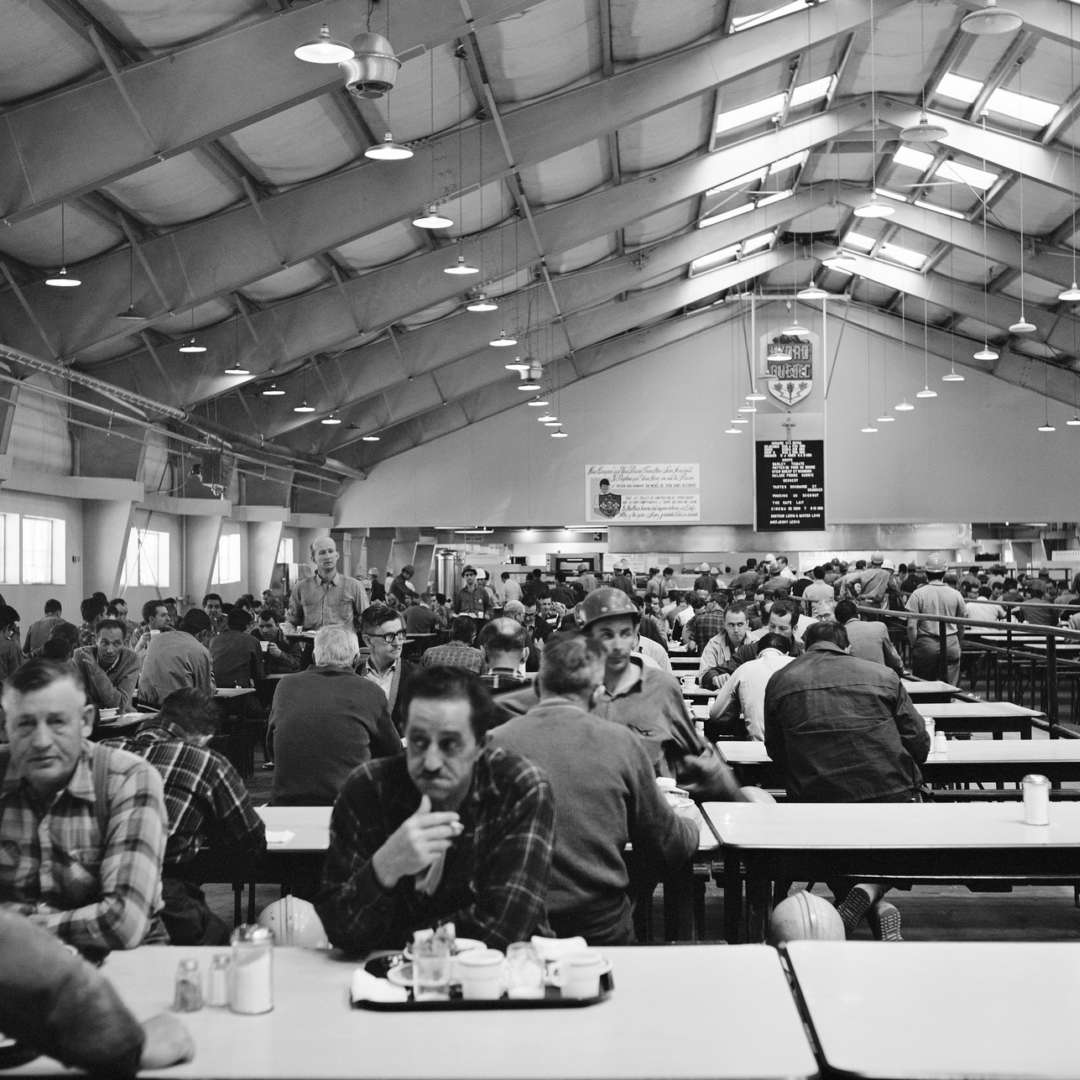 Jobsite cafeteria, 1965. A well-deserved break for the workers.
©Hydro-Québec archives.
School children in Lac-Louise, 1965. Temporary villages like this one were created to provide homes for workers' families close to jobsites.
©Hydro-Québec archives.
In 1968, six years after the first concrete pour, the dam was finally completed. It had taken 31,350,000 hours to build. It was to be inaugurated on September 26 by then Premier Daniel Johnson. Unfortunately, he died of a heart attack at the site several hours before the event. The dam was inaugurated one year later, on September 26, 1969, and was named after Daniel Johnson, who had announced the start of the project 10 years earlier.
Fifty years later, Daniel-Johnson dam is still the world's largest arch-and-buttress dam and a magnificent testimony to Québec know-how.
See the Daniel-Johnson dam in this video about Manicouagan-Outardes.
Until the hydropower development in the Baie-James region came on stream, Manic-Outardes was the most powerful generating complex in Québec. Because of the technical challenges that were overcome in its construction, it holds a special place in the province's history. Its successful completion can be credited to the hard work and dedication of thousands of Quebecers.