Net income remained high in 2016, at $2,861 million, despite lower prices on energy markets and a return to near-normal temperatures in Québec.
Exports reach a historic high of 32.6 TWh:
Volume increase of over 10% compared with 2015
A 1.8-TWh increase over the previous record, set in 2013
Contribution of $803 million to net income
Economic spin-offs created by Hydro-Québec's operations:
Contribution to the Québec government's revenue: over $4 billion
Investments throughout Québec: $3.5 billion
Purchases of goods and services in Québec: $2.8 billion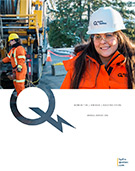 Annual Report 2016
Hydro-Québec's net income remained high in 2016, at $2,861 million, even as temperatures returned to near normal on the Québec market after two years marked by very cold winters. The company was able to capitalize on its commercial and operational expertise to export a record volume of electricity, which mitigated the impact of lower prices on energy markets. For a fourth consecutive year, Hydro-Québec's contribution to the revenue of its sole shareholder, the Québec government, has exceeded the $4-billion mark.
Consult the annual report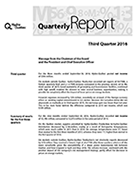 Quarterly report 2016
Hydro-Québec: Record volume of net exports in the third quarter
The company posts net income of $306 million
For the quarter ended September 30, net income totaled $306 million. Hydro-Québec took advantage of several business opportunities on markets outside Québec, which resulted in a record volume of quarterly net electricity exports. This allowed the company to offset the decrease in prices on energy markets and to maintain its third-quarter net income above $300 million.
The difference compared to the $339-million net income posted in the third quarter of 2015 is mainly due to an increase in financial expenses attributable to exchange rate fluctuations.
Consult the Quarterly report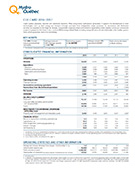 Cue card 2016-2017
The Cue Card gives an overview of Hydro-Québec's financial information as well as the characteristics of its debt, its financing needs and a financial outlook for the year ahead.
For information about financing and debt management at Hydro-Québec, please see the Investor Relations specialized site.
Consult the Cue Card

[pdf – 104 KB]
Go to the Investor Relations specialized site
Dans cette section