A huge wave of savings
A pool or spa can be responsible for approximately 70% of your summer electricity bill. Adopting the right pool and spa products as well as good habits will help you save.
Energy-efficient pool products
Less heating with a solar cover
Use a solar cover and save up to 45% on your water heating costs.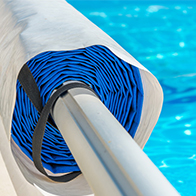 Good habits
Use a solar pool cover every day, especially overnight and even in warm weather.

Place the cover bubble-side down, in contact with the water.

Use a reel for easier handling.

Lower the temperature by just a degree or two to save approximately 25% on your water heating costs.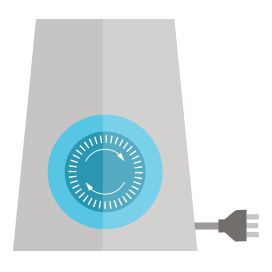 Install a timer and save at the pump
Install a timer on the filter pump and save up to 45% on filtration costs without sacrificing water quality.
Good habits
Choose a timer that is especially adapted to your pool (for at least a 1-HP motor) and rated 15 A.

If you choose an electronic timer, be sure it can store programming information in case of power failure.
Pumps: efficiency leads to savings
If you plan to replace your pump or install a new pool, consider purchasing an efficient pump (a two-speed or variable-speed model). You could save up to 80% on your water filtration costs as compared to a single-speed pump.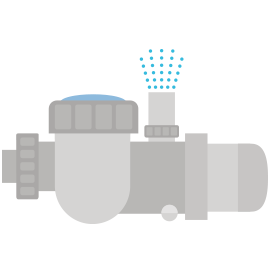 Good habits
Choose a model of two speed pump that automates the hours at which the pump operates on high and low speeds to facilitate use and maximize savings.

Choose an ENERGY STAR certified model.

Ask your pool retailer whether the pump is compatible with your setup (chlorinator, ionizer, ozonizer, heater, etc.).

When it comes time to install your variable-speed pump, call upon the services of an expert, who can give you personalized tips.
Heat pump: the perfect complement
Are you planning on buying a pool heater? With a heat pump, you could save up to 75% on your water heating costs. While it may be more expensive than an electric resistance heater, a heat pump will lead to greater savings that will offset the higher price.
Spa: proper use, lower consumption
A spa can have a considerable impact on your electricity bill and cost over $500/year. If you don't plan on using your spa during the winter, remember to shut it off. You'll save over $250.
Source : Hydro-Québec's Calculation Tools
Good habits
For savings, lower the standby temperature by a degree or two.

Put the cover back on after each use to retain heat.

Choose a spa with better insulation and two separate pumps, including an efficient model (with several speeds).

Choose a rigid, well-insulated cover to avoid wasting the energy required to heat the water.

Make sure your spa is protected from strong winds and the elements.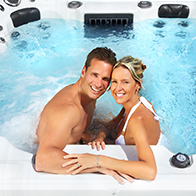 Did you know that using a spa just once a week is the equivalent of leaving a 55‑inch television on for 24 hours/day for a month?