IMPORTANT – Guided tours are suspended until further notice.
Guided tours available this fall
Our guides will be happy to welcome you on one of our free guided tours.
Because of COVID‑19, please refrain from taking part in a tour if you should be self‑isolating. Also, please observe indicated social distancing and sanitary measures before and after your visit.
IMPORTANT
You will be asked to fill out a health declaration form: you will need to confirm that you and any member of your household are not experiencing any symptoms related to COVID-19. This form addresses the following six situations:

You have one or more of the symptoms listed.
A member of your household has one or more of these symptoms.
You have tested positive for COVID-19 or are waiting for test results.
You have been in direct contact with someone who has tested positive for
COVID-19 or who is waiting for their test results.
You have received recommendations from public health authorities for a follow-up in the last 14 days.
You (or a member of your household) have traveled outside Canada in the last 14 days.

Reservations by telephone are required before you can visit one of our facilities. A complete list of facilities and phone numbers is provided below.
Inside our facilities, only 6 to 12 visitors will be allowed at a time.
Bring your own water bottle. You can refill them on site.
Upon arrival, wash your hands using the antibacterial sanitizing gel provided.
Keep a 2-metre distance from others (except members of your household).
The safety of our visitors and the observance of sanitary measures are our top priority:
Antibacterial hand sanitizing gel distributors are available.
Exhibition items are cleaned after each group.
We have increased the cleaning and disinfecting frequency of our facilities.
Wearing a mask is required for visitors who must take a bus as part of a guided tour (Manic-5 and Romaine-1 generating stations and the Robert-Bourassa generating facility). Be sure to bring a mask with you. Thank you.
FALL 2020: LIST OF FACILITIES OPEN TO THE PUBLIC BY REGION
Some of our facilities remain closed at this time, including the Robert-Bourassa, La Grande-1 generating stations, the Centre for Sustainable Development and Hydro-Québec's Head Office.
Montérégie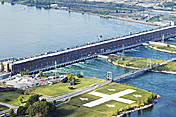 Beauharnois Generating Station
Reservations: 1 800 365-5229 (toll-free)
Schedule and other useful information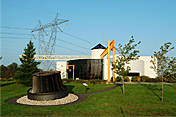 The Électrium – Hydro-Québec's Electricity Interpretation Centre
Reservations: 1 800 267-4558 (toll-free)
Schedule and other useful information