FAQ on Hydro-Québec's energy in North America
Is hydropower generated in Québec zero emission?
All electricity generation produces some level of greenhouse gas emissions.
Québec hydropower is one of the lowest-emission generating options per kilowatthour produced.
According to a study based on a 100‑year life cycle analysis (published in 2014) by the International Reference Centre for the Life Cycle of Products, Processes and Services (CIRAIG), GHG emissions from hydropower developed in Québec are very low:
Similar to wind energy
50 times less than natural gas
70 times less than coal
Among renewable and low-carbon energy sources, hydropower is the only one offering continuous generation‑all the others are intermittent.
Furthermore, Québec hydropower produces no toxic waste and none of the pollutants that contribute to the formation of acid rain and smog.
Find out more about Hydro‑Québec's role in the fight against climate change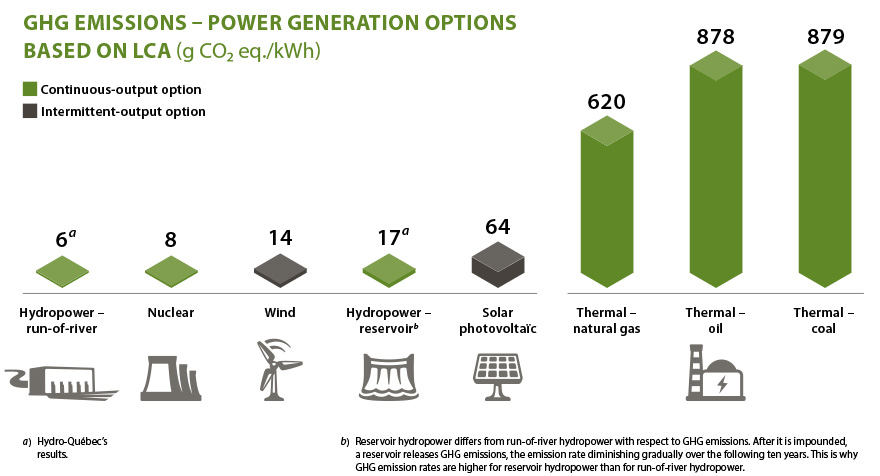 How much energy does Hydro‑Québec sell to markets outside Québec?
Hydro-Québec has a large volume of electricity available for sale on export markets, thanks in particular to the addition of 5,000 MW of new capacity to its hydropower generating fleet over the past 15 years. In 2021, the company's net exports reached 35.6 TWh, exceeding 35 TWh for the second in Hydro‑Québec's history.
Exact volumes sold on wholesale markets depend on available water resources from one year to the next, as well as transmission capacity to each market and Hydro‑Québec's sales strategy.
Is Québec hydropower cheap?
Québec hydropower is competitively priced when compared with other electricity sources, including other clean sources and natural gas.
Hydropower development entails high up‑front capital expenditure, but very low operating costs, which translates into power at a very stable, predictable cost for the long term. Some of Hydro‑Québec's facilities have been operating for over 100 years.
Increasing imports of Québec hydropower can assist in mitigating price volatility, particularly in winter, by reducing demand for natural gas.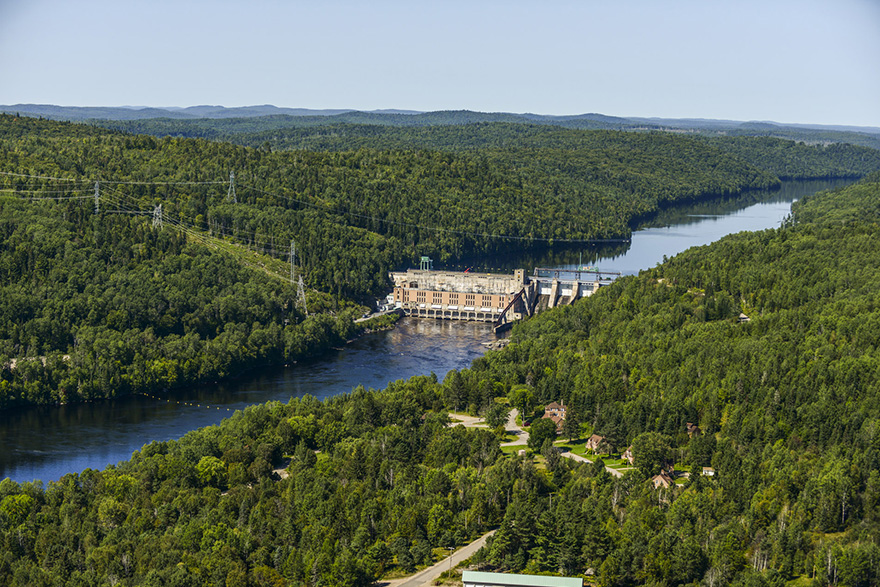 Why is importing electricity from Hydro‑Québec beneficial for customers in New England or New York?
Additional imports of hydropower into New England and New York will have numerous benefits for those areas, including:
Reductions in wholesale electricity prices
Less price volatility thanks to reduced reliance on natural gas
Reduction of local air pollutants (SO2, NOX), which cause smog and acid rain
Hydropower is one of the lowest-emission power generation options. When Hydro‑Québec exports into other regions, thermal generation is displaced and GHG emissions are avoided.
In 2019, our exports helped our partners in neighboring markets avoid nearly 7 Mt CO₂ eq., which is equivalent to taking about 1.74 million vehicles off the road.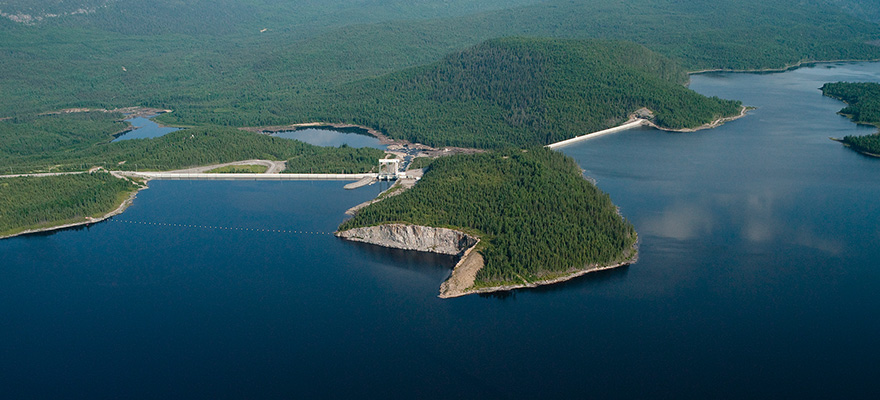 Can Hydro‑Québec deliver to New England in winter, given that Québec is a winter peaking system?
Even during peak periods in Québec, Hydro‑Québec consistently maintains delivery volumes into New England that are well above its contractual obligations.
During peak hours over the 2019‑2020 winter, for instance, Hydro‑Québec exported more than 1,650 MW/hour on average to the region.
And even when Québec demand was at its highest that winter (36,159 MW of demand on December 19, 2019, at 7:00 p.m.), Hydro‑Québec delivered 1,800 MW per hour to New England. This level of delivery far exceeds the 147 MW of capacity that the company was required to supply to the region at that time.
If Hydro‑Quebec had access to additional transmission capacity, it could deliver more power into New England during peak periods.
Hydro‑Québec has the means to honor its contractual obligations both on external markets and in Québec. One way for neighboring markets to secure firm deliveries is therefore to sign contracts with Hydro‑Québec.
Has Hydro‑Québec displaced Indigenous populations due to the construction of its projects?
Hydro‑Québec does everything possible to preserve the various types of land use, promote the pursuit of traditional activities and ensure that Indigenous people benefit from the economic spinoffs of projects. Since 1975, Hydro‑Québec has signed over 40 agreements with Indigenous nations and communities and is a leader among Canadian companies in terms of its extensive relations with these communities.
The company ensures that they participate in all phases of its projects. This approach is based on relationships that respect the interests, values and culture of the various Indigenous communities.
For example, Hydro‑Québec worked closely with the Cree communities on the planning and construction of the Eastmain/Sarcelle/Rupert Complex. A special effort was made to maximize the participation of the Cree tallymen, who are responsible for managing trapline resources and harvesting activities, in developing and planning mitigation measures. Hydro‑Québec entrusted the implementation of several of these measures to the tallymen, thereby generating additional economic spinoffs for the Crees. This active involvement enabled the tallymen to resume their use of the land more quickly and to continue their traditional activities.
Is the mercury released in lakes and rivers a health hazard for native peoples?
While it is true that fish mercury levels increase after the creation of a reservoir, this is a well-known and well-managed temporary phenomenon. No cases of mercury poisoning from eating fish have been reported in Québec.
In the 1980s, Hydro‑Québec established a research program with a variety of renowned experts, to study the issue of mercury in hydroelectric reservoirs. The company has significant expertise on the subject.
Do local communities benefit economically from these hydropower projects?
Hydro‑Québec endeavors to ensure that its operations and its infrastructure projects benefit the regions in which they are located.
Every year, Hydro‑Québec's operations and projects generate billions of dollars in spinoffs and support thousands of jobs. The current construction projects are contributing substantially to the vitality of a number of regional economies.
For example, between 2012 and 2016, the peak labor force on the Romaine complex jobsite was in excess of 2,000 workers, most of them from the region.
The company uses various mechanisms to maximize these spinoffs, including contract clauses to promote local subcontracting, regional economic spinoff committees, etc.
Do new hydropower projects being developed in Canada damage the environment?
Hydro‑Québec applies the principles of sustainable development to all phases of its projects, from planning to construction and operation. No hydropower project gets the green light unless it is profitable (under market conditions), environmentally acceptable and favorably received by local communities.
Hydro‑Québec has been active in environmental protection for 40 years and is a pioneer in this field. The company does everything it can to mitigate the impacts of its facilities throughout their life cycle and to preserve the uses of the land affected by its operations.
Hydro‑Québec's projects go through stringent environmental reviews, both at the provincial and national levels, with a view to preventing, mitigating or compensating for project impacts.
For example, in the case of the Romaine complex, the environmental budget—covering studies, follow-up and mitigation measures—will exceed C$320 million. Among other things, Hydro‑Québec plans to conduct an extensive follow-up program that will last until 2040 … a full 20 years after the commissioning of the final powerhouse.
This follow-up will verify the effectiveness of the mitigation measures and ensure that any necessary adjustments are made.