Make a request for work – Residential customers
We are closely monitoring the COVID-19 situation and taking all necessary steps, in accordance with the directives adopted by the Québec government, to ensure the health and safety of the public and our teams. Given the current context, we are unable to commit to specific dates regarding requests for connections or work. Our customer service teams will unfortunately be unable to give you more information in this regard. Please submit your requests in advance, if possible, and allow for additional time.
For the following type of work, please fill out the form below and specify, where possible, the date on which you would like the work to be carried out:
Moving a pole or meter
Reporting noisy or defective equipment
Removing an object touching a piece of Hydro-Québec equipment
Other
Charges may apply and depend on the nature and scope of the work. You will receive an evaluation if charges apply.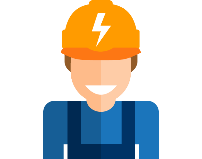 Connection or change to a connection
This work is always carried out by Hydro Québec. However, the request must be sent to us by a master electrician.