The Energy Transition in Îles-de-la-Madeleine
Making the islands even greener
Video :

Cable connection

Starting in 2025, the islands will be supplied with Hydro-Québec's clean and renewable energy via underground and subsea cables from Percé substation, located in Val-d'Espoir, Gaspésie.
Microgrid
Working in partnership with the community, Hydro-Québec will set up a microgrid that uses other renewable energy sources, energy storage batteries and various solutions for managing power consumption in buildings.
Thermal power plant
The thermal power plant will be maintained as a backup facility that can be used during maintenance operations or in the event of a power outage.
Compared with 2017,
Hydro-Québec's GHG emissions reduced by
40%
A robust, reliable solution for more than
40 years
News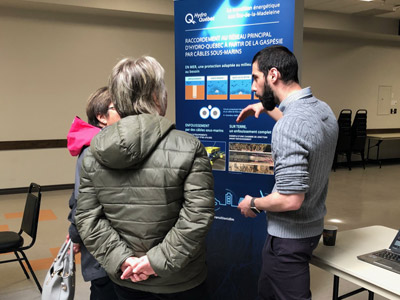 It's great talking with you!
From May 13 to 17, 2019, our project team was in the Gaspésie and Îles-de-la-Madeleine regions to talk with residents, elected officials, and representatives from provincial departments regarding the undersea connection to the archipelago. We met with over 100 people during this busy week.
Many of you were surprised to find out that the cables are so small. During our next information and discussion sessions, we'll be presenting information about the electromagnetic fields generated by the cables that we're sure you'll find reassuring.
Stay informed
Sign up for our mailing list to receive project updates.