Hertel–New York Interconnection
Construction project fact sheet
Hertel converter substation
The project includes the installation of a converter at Hertel substation, on Hydro-Québec property.
It will convert alternating current to direct current, which will flow directly to New York through the underground lines.
The conversion equipment will be installed in a new 5,000 m2 building located in the planned expansion area.
Expansion of Hertel substation [pdf — 6 MB]
The conventional switchgear needed to connect the converter to the 735-kV system will be erected within the existing substation and planned expansion area.
Construction of the underground line
Construction method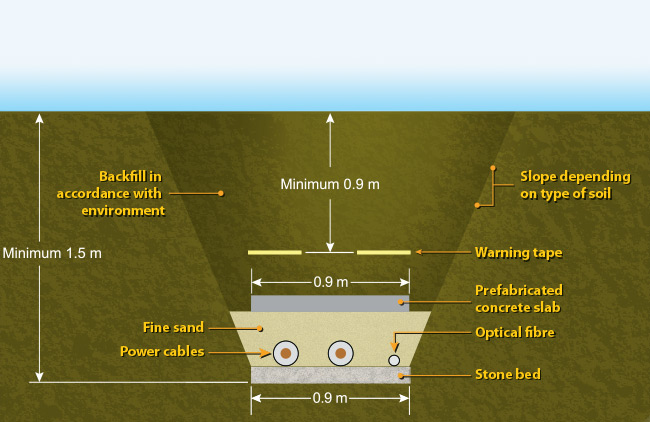 The two electric cables will be buried 1.5 metres deep, in thin compacted granular material and in a trench approximately 1 metre wide.
A protective layer of concrete (or other material with similar properties) will be placed above the cables and warning tape will be installed closer to the ground.
The construction methods used (e.g., directional drilling) allows for certain obstacles, such as ditches and drainage systems, to be bypassed.
Line operation
Equipment to be installed at the ends of the line, in each of the converters, will allow us to detect and quickly correct any electrical faults. Should the line fail, it is de-energized in less than a second, making it very safe to operate.
Once the line is commissioned, traffic can resume on the right-of-way and farmland can be cultivated again.