Caroline's expedition is on its third week now, and the sun is back! After a few days of difficult winter conditions, she faced irregular terrain on her way to Baie-Comeau. She was up against constant challenges but the reward was worth it. There's nothing like falling asleep to the sound of waves hitting the shore on Godbout beach, between sand and snow.
Upon arriving in Baie-Comeau, she was met by several journalists who were eager to hear about her expedition. She also received a warm welcome—Côte-Nord style—from local Hydro-Québec employees who got a sneak peek of her specialized equipment during their lunch break.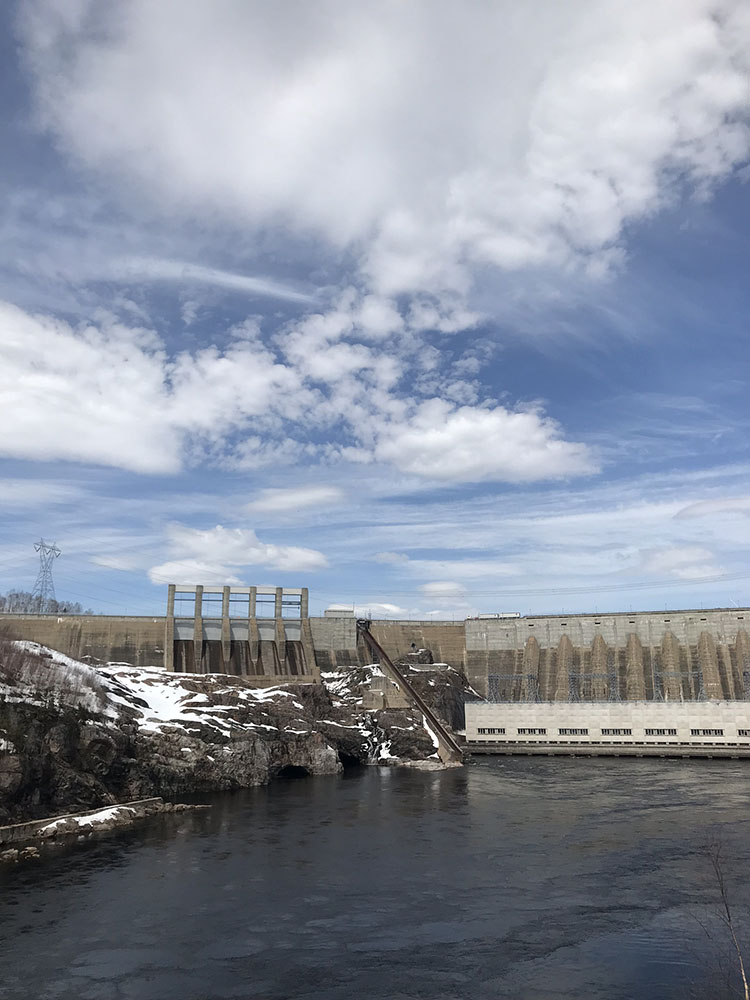 With highway 138 behind her, Caroline moved away from the Fleuve Saint-Laurent and headed north toward Jean-Lesage (Manic-2) generating station. She covered this challenging stretch under the watchful eye of expedition leader Samuel Ostiguy and the expedition team: The main priority is to keep Caroline safe at all times.
Manic-2 generating station reveals itself to drivers after a long trip on a winding road, against a mountainous backdrop. Just imagine what Caroline must have felt when she reached it—alone on her bike. At Manic-2, she got to meet some of the pioneers who participated in the construction of the Manic-Outardes complex, one of our major jobsites in the 60s and 70s.
Next on the program: forging ahead to Manic-5 generating station! After that, back into the forest where she'll continue her trek by snowshoe or on foot.
Diaporama
Le contenu qui suit est un diaporama d'images sur : Les normes
April 19 – Sept-Îles – Bike break at Arnaud substation

April 20 – Godbout – Rocks on a snowy beach

April 20 – Godbout – Nighttime on a Côte-Nord beach

April 24 – Baie-Comeau – Road sign on Route 389, towards Manic 5

April 24 – Baie-Comeau – Field of towers

April 24 – Baie-Comeau – Jean-Lesage generating station (Manic-2 hydropower facility)