The seventh week of the expedition has come to an end and, so has what has proven to be the most difficult stretch for Caroline so far.
A week ago, after a short rest, testing out some new equipment and stocking up on some much-needed supplies from expedition leader Samuel Ostiguy, our adventurer set off from Bersimis-1 generating station , following the transmission line towards Monts-Valin.
This wild and beautiful region brought up all kinds of emotions for me.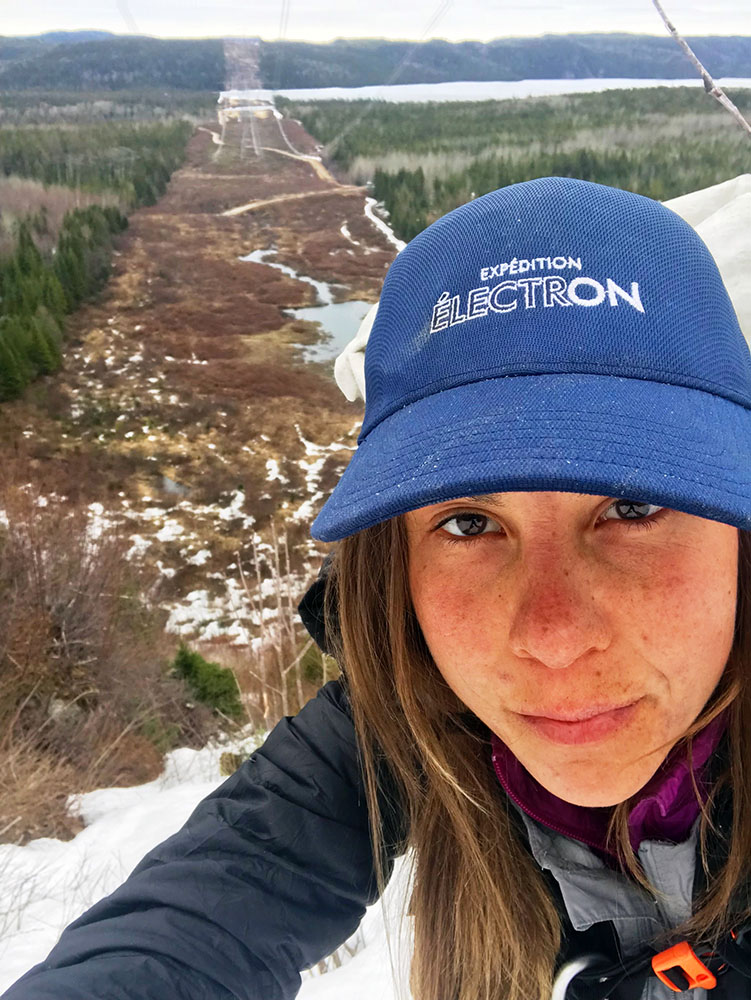 The extreme weather conditions fluctuated wildly, from a warm spell to a snowstorm on Wednesday, May 16. Caroline saw it all! The high winds and deep snow on the upper trails were reminiscent of her departure from Natashquan on April 4—already over a month and a half ago!
On this stage of her expedition, Caroline frequently followed moose tracks, and occasionally even wolf tracks, which are generally a good indication of the best routes to take through the forest.
Caroline's courage and perseverance were put to the test once again. She climbed up and down several peaks, lost her way in the forest in her efforts to avoid certain obstacles, and had to follow the shoreline of a lake to keep moving ahead. And to top it off, one of her snowshoes broke.... At least, with the warmer temperatures, she was finally able to sleep through the night without waking because of the cold.
After a week of complete solitude, Caroline had a few days of rest and picked up some additional supplies from Samuel before leaving Monts-Valin. She then headed off by bike to Saguenay, where a wonderful surprise awaited her: her parents had come to visit her and cheer her on!
As I left Monts-Valin, what hit me most was the change in surroundings and season: the smells of spring, fields full of colour and, best of all, no snow! Arriving in the city of Saguenay after all that time alone in the woods was quite an experience. The streets were full of people and it was really something to see cars again!
With over 1,300 km under her belt since Natashquan, Caroline will get back on the trail after meeting with some locals in Saguenay.
Next stage: Off to Roberval for an inspiring encounter and then La Tuque and the Rivière Saint-Maurice!
Diaporama
Le contenu qui suit est un diaporama d'images sur : Les normes
May 14 – Between Bersimis-1 and Monts-Valin. The snow is disappearing.

May 15 – Between Bersimis-1 and Monts-Valin. Finally a little warmth.

May 14 – Between Bersimis-1 and Monts-Valin. The ice on the rivers has thawed completely.

May 15 – Between Bersimis-1 and Monts-Valin. Caroline is alone … well, almost.

May 16 – Between Bersimis-1 and Monts-Valin. The only other people here are a few hunters.

May 16 – Monts-Valin. Checking the food reserves before leaving.

May 21 – Monts-Valin. Just like routes, lines sometimes cross.

May 21 – Monts-Valin. Moonrise over the line Caroline followed on her way to Monts-Valin.