Investing in solar panels in Québec: Is it right for me?
Thanks to falling upfront costs, the global market for photovoltaic solar power is soaring. But what is the situation here in Québec?

The main obstacle to the widespread use of solar panels in Québec is the substantial upfront costs, combined with limited yearly savings. In fact, the cost of electricity in Québec is so low that the savings do not allow solar power generators to recoup their initial investment for at least 30 years. In other words, customer-generators will not have even covered their costs by the time they have to replace their roof and panels.
In 2018, the payback period for this investment in Québec is often longer than the service life of the roof and solar panels.
As a result, is there any reason to install photovoltaic solar panels in Québec? Of course, but the reason is not financial. Most solar power projects in Québec are carried out for research and innovation purposes or simply out of a desire for energy independence.
Advantages and disadvantages of photovoltaic solar panels
Advantages
Little maintenance required and low operating costs
Long service life (about 20 to 30 years)
Availability of a stable source of sunlight year after year, estimated at 1,200 kWh/kW
High site potential (buildings, parking lot sunshades, open spaces, etc.)
Savings of approximately $500 a year
Disadvantages
High upfront costs in comparison to anticipated savings.
For example: for an average house, a system composed of 16 300-W panels costs roughly $14,000 but generates only around $500 in savings each year.
Intermittent output that varies depending on the time of day, weather and season
Slight deterioration in efficiency over time
Solar power in the service of Hydro-Québec's off-grid systems
Too remote to be connected to the Hydro-Québec grid, the Îles de la Madeleine and villages in Québec's far north get their electricity from off-grid systems powered primarily by thermal energy, which is far more expensive and produces much more greenhouse gas than hydropower.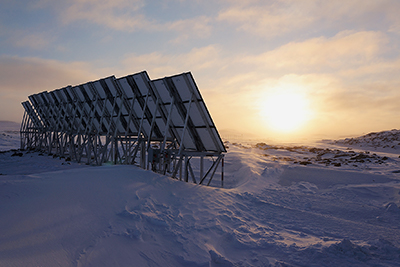 Among Hydro-Québec's photovoltaic solar power initiatives, the pilot project involving the installation of 69 solar panels in the village of Quaqtaq in Nunavik will be crucial, helping to frame future energy transition strategies for off-grid systems.
The photovoltaic modules' capacity is 2% of that of the thermal generating station that powers the village. This new technology could reduce fuel consumption by 5,000 litres a year, leading to substantial environmental and economic benefits!