Visit Hydro‑Québec's head office!
Montréal, QC
Aerial view of the Jean‑Lesage building, Hydro‑Québec's head office
The past and the present
My name is Édifice Jean‑Lesage, and I'm in the heart of downtown Montréal. People recognize me by my green facade and my logo that can be seen from afar.
When you come visit me, my guides will introduce you to:
The history of Hydro-Québec and the nationalization of electricity, a turning point in the history of Québec.
The stages of my construction. I'm one of Montréal's first skyscrapers!
Jean-Paul Mousseau's illuminated mural that dominates the lobby. It's simply magnificent!
But we won't just talk about the past. Part of your tour will touch on Hydro-Québec's recent growth and the electrification of transportation.
In short, you'll come out knowing much more about a flagship of Québec's economic development.
I look forward to welcoming you!
---
A sneak peek!
Have a look at these pictures for a hint of what your guided tour has in store for you!
Did you know?
Brilliant minds
Our guides have answers to more than 100,000 questions about electricity and Hydro‑Québec. Put them to the test!
175,000 years to see it all
The work Lumière et mouvement dans la couleur in the lobby was created by Jean‑Paul Mousseau, the youngest signatory of the manifesto Refus global. The artist designed an interplay of lights to create colorscapes that are constantly changing. In fact, you can only admire the same mural once every 175,000 years! Wow!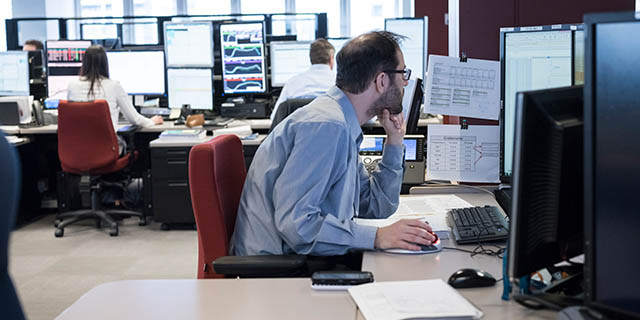 We play the stock market!
Since the year 2000, I have housed an energy trading floor. It's an energy exchange through which Hydro‑Québec buys and sells electricity on markets outside Québec. Megawatts are traded here every hour of every day of every week!
---
My history
Since 2017, my name has been Édifice Jean‑Lesage. The Commission de toponymie du Québec and Hydro‑Québec chose the name of this premier to pay tribute to a person who played a decisive role not only in the government‑owned corporation's development during the second phase of electricity nationalization, but also in the history of modern Québec.
1901: Montreal Light, Heat and Power begins operations
1939–1945: World War II
1944: First phase of electricity nationalization in Québec
In the wake of the first phase of electricity nationalization in Québec led by the government of Adélard Godbout, the brand‑new government‑owned corporation set up its head office in what was called the "Power Building" on Rue Saint‑Antoine, in the former premises of Montreal Light, Heat and Power. Today, the Palais des Congrès is located at this address.
The evolution of Québec society brought about many changes, including an increased demand for electricity. Hydro‑Québec was expanding, as were its workforce and number of customers. The company launched the project to build a new, modern head office (me!), worthy of the pride of Quebecers.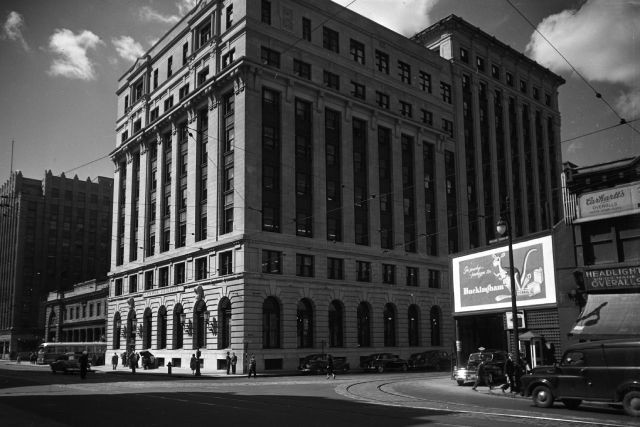 1958: Construction of the head office and adjacent substation begins
Construction of the new Hydro-Québec head office began in 1958. The building, whose architecture is inspired by the International Style, is one of the first skyscrapers in Montréal. It was built at the same time as Place Ville-Marie, another Montréal landmark.
The reputation of Gaston Gagnier (1906–1982), the project's architect, was well established. He designed the main hall of the École polytechnique de Montréal and numerous Québec churches.
At the same time, the development of Dorchester substation behind the head office was progressing well. Occupying five floors, it became the largest and most powerful underground substation in North America when it was commissioned in the 1960s. Still today, it plays a key role in supplying downtown Montréal with electricity.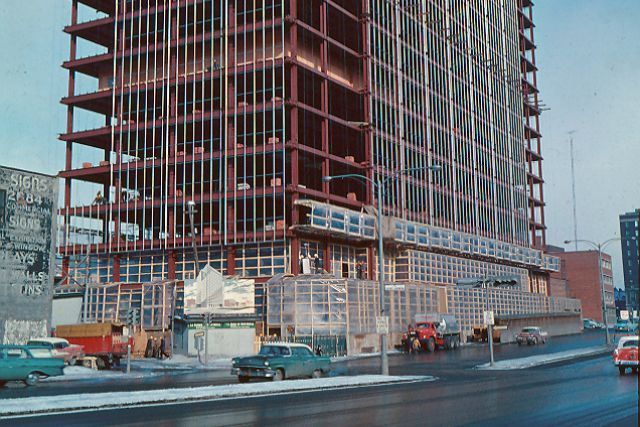 1960: Beginning of the Quiet Revolution
1961: Public competition for the choice of a work of art
Construction was almost complete, so Hydro‑Québec organized a competition for Québec artists to create a work of art for the lobby. The mural Lumière et mouvement dans la couleur by world‑renowned artist Jean‑Paul Mousseau, the youngest signatory of the Refus global, won the competition. It is one of the best‑known works of art in Hydro‑Québec's collection, which has more than 1,300 works.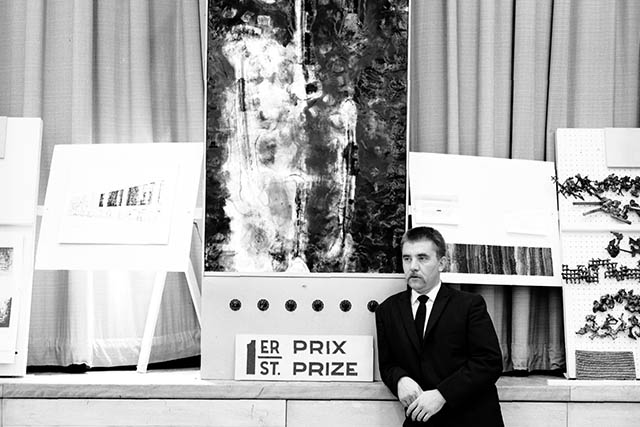 1962: My inauguration
Montréal was rapidly expanding, and the Quiet Revolution had profoundly transformed Québec. On June 8, 1962, I was inaugurated in the presence of Premier Jean Lesage and René Lévesque, Minister of Natural Resources. That same year, the Lesage government, with its Maîtres chez nous! campaign, was re‑elected. In 1963, he implemented the second phase of electricity nationalization in Québec, which was to be a major driver of growth for Hydro‑Québec.
From 1966 to 2003, all Québec premiers, including René Lévesque, Robert Bourassa and Bernard Landry, had an office in my building to work in when they were in Montréal.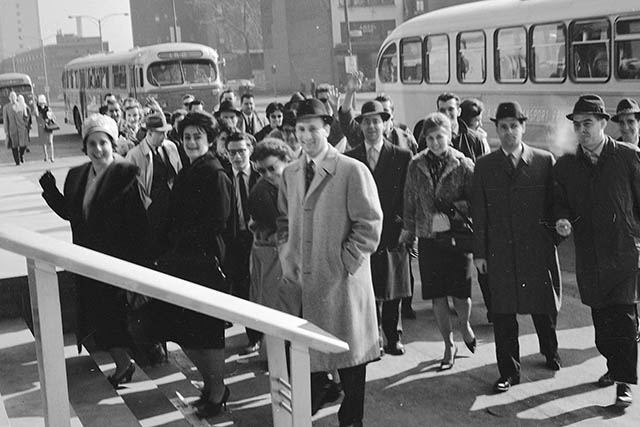 1963: Second phase of electricity nationalization in Québec
1967: Montréal's Expo 67
1976: The Parti Québécois is elected for the first time
2016–2019: Restoration work and name change
In 2016, major restoration work on my outer shell was undertaken, which was completed in 2019. An important part of Québec heritage, my original appearance was fully preserved.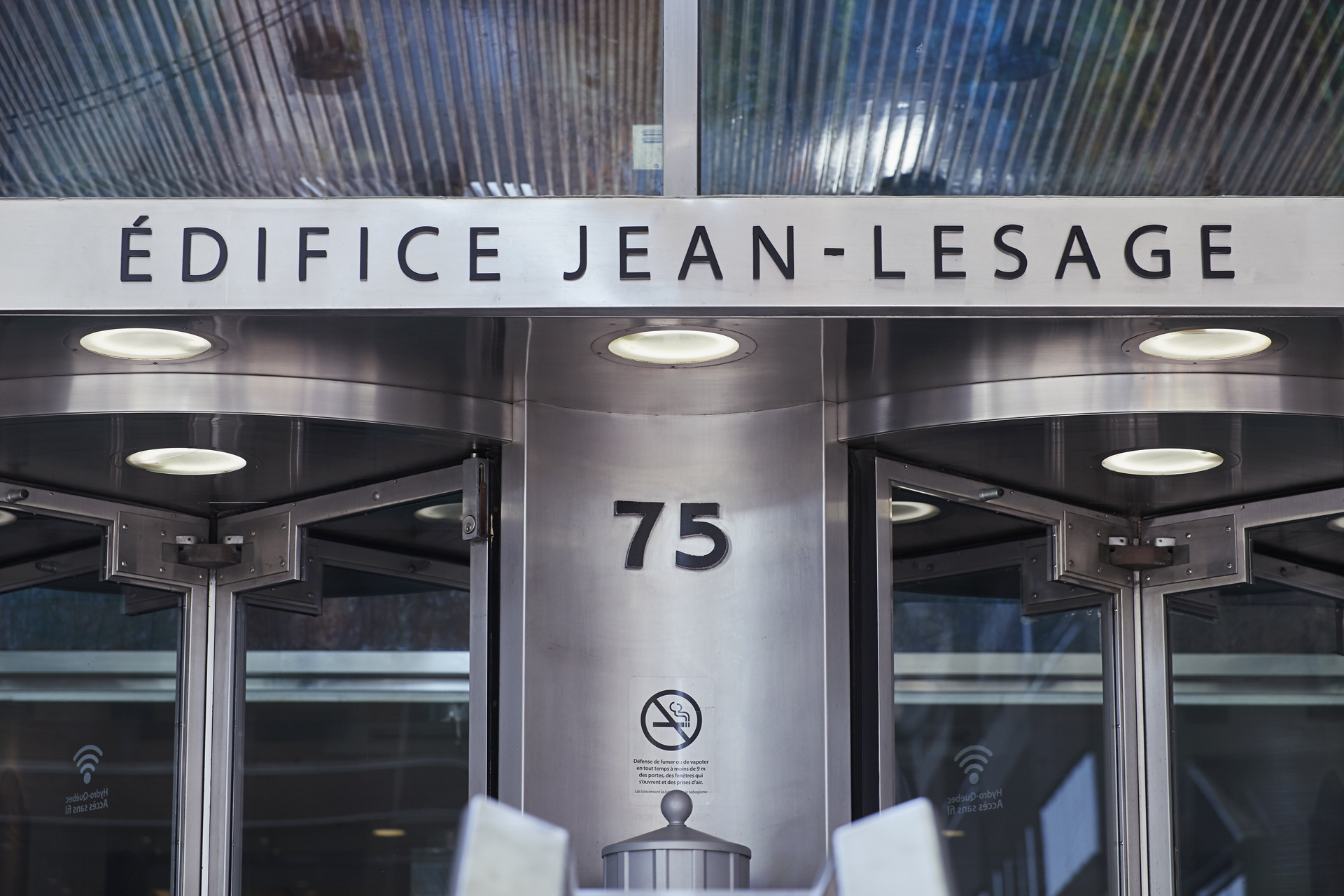 It's well worth the trip!
Don't take our word for it: this is what the people who visited Hydro‑Québec's Head Office with our guides had to say.
Wow! I've discovered a part of history that I never knew anything about.
A good, easy‑to‑understand and educational tour. More people should take advantage of it.
Art, history, technology: the tour covers a lot of bases!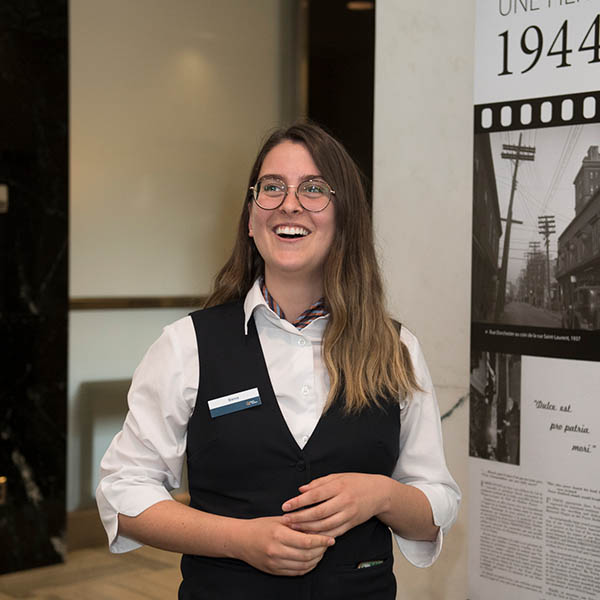 Reservations and practical information
At a glance
Free admission
The guided tour of the head office is not suitable for children under the age of 12.
Length of tour
About 75 minutes
Note: We answer all your questions about Hydro‑Québec–except those about your account or bills, which are handled by another service. Come see us!
The tour takes place in the lobby and at the Reception Center. We cannot take you to visit our work spaces because more than 1,500 Hydro‑Québec employees work there.
School tours
Looking for original tours featuring science, history and technical know‑how? Hydro‑Québec's got just the ticket!
Check it out!
Reception Center business hours
Monday to Friday, 8:30 a.m. to 4:30 p.m.
Guided tour schedule
Tuesday and Wednesday: 10 a.m.
Friday: 3 p.m.
Reservations required
Tours start at set times. We recommend that you arrive 15 minutes in advance.
Contact information
Hydro‑Québec Head Office (Édifice Jean‑Lesage)
75, boul. René‑Lévesque Ouest
Montréal (Québec) H2Z 1A4
Metro : Saint‑Laurent, Place‑des‑Arts, Place d'Armes stations
Tel. : 514 289‑2316Tel. : 514 289‑2316 (toll-free) between 8:30 a.m. and 4:30 p.m.
Get in touch by email.7
Know before you go
(yes, really, it's important!)
Accessibility
This is a walking tour that includes some stairs but can be adapted for people with reduced mobility.
KÉROUL CERTIFICATION

Partially accessible to people with reduced mobility
Offers one or more services for people with impaired vision
Offers one or more services for people with impaired hearing
Services
Accessible to people with reduced mobility

Electric vehicle charging station

Accessible by public transit

Near a bike path

Restrooms
Tour Rallies
Before or after your tour, try our rally entitled "Retrace the history of Hydro‑Québec in the streets of Montréal" (for adults and teens).
It's easy! Download the Tour Rallies app, select the rally, then have fun taking the quiz while strolling through the streets of downtown and Old Montréal.