With a timer, every second means savings!
A timer is easy to program and allows you to turn off the pump without sacrificing water quality.
A timer can help you save up to
45%
on filtering costs without sacrificing water quality.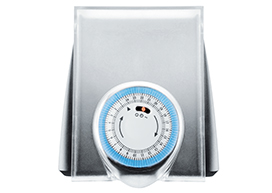 Benefits
Peace of mind: Avoid starting and stopping the pump yourself.
Less noise: Eliminate noise from the pump motor for hours at a time!
Cost effective: Recover the cost of the timer before the end of the summer.
Savings for both types of pools
Above-ground pool
24-ft. diameter (42 m2)
Save up to
$100
every summer**
In-ground pool
16 ft. x 32 ft. (48 m2)
Save up to
$150
every summer**
Additional savings
Use a solar pool cover and save even more! With a solar cover there's less evaporation and wasting water, and you'll also use fewer chemicals to keep your water clean.
Note
Make sure your pool water is clean and chemically balanced (pH and chlorine) at all times. If you use a chlorinator or a salt water system, readjust the flow accordingly. Your timer might not be compatible with your automatic chlorine or salt dispenser. Check with your retailer and follow the manufacturer's recommendations.
If you have a pool heater, don't use a timer since the circulating pump will have to work whenever the heater is on.
You'll need a master electrician to install any in-ground pool timer that needs to be connected to the distribution panel.
Don't use a timer with a pump above water level unless there's absolutely no risk of it losing its prime.
** Calculation basis
24-ft. above-ground pool. 16 ft. x 32 ft. in-ground pool.
Amounts based on an electricity price of 8.65¢/kWh.
Filtration: pump used 24 hours a day for five months. Single-speed pump: 735 W (above-ground) and 1,312 W (in-ground).
Suggested Pump Off Time
Pool Type
May
June
July
August
September-
October
Above-ground pool
12 hours
10 hours
10 hours
10 hours
12 hours
In-ground pool
10 hours
6 hours
6 hours
6 hours
10 hours