Savings every second with a timer
If your pool is equipped with a single-speed pump, you could save up to 45% on your electricity costs for filtration simply by installing a timer to automatically control your system. Easily programmable, the timer will enable you to turn off the pump without sacrificing water quality.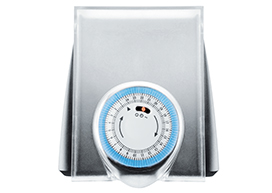 Benefits
Peace of mind: Use the timer to automatically turn the filter pump on or off and avoid having to start and stop it manually.
Quiet operation: No more endless hours of pump noise!
Cost effectiveness: The timer's low purchase price means that you'll recoup your investment through electricity savings in the first summer.
Versatility: The timer can also be used for outdoor lighting, holiday lights and your block heater.
Savings
Above-ground pool: Save up to $100 every summer!*
In-ground pool: Save up to $150 every summer!*
Notice
Make sure your pool water is clean and chemically balanced (pH and chlorine) at all times.
If you use a chlorinator, readjust the flow accordingly.
If you have a pool heater, don't use a timer since the circulating pump will have to work whenever the heater is on.
You will need to call upon a master electrician to install an in-ground pool timer that must be connected to the distribution panel.
Don't use a timer with a pump above water level unless there's absolutely no risk of it losing its prime.
* Calculation basis:
Energy consumption and savings depend on installation features and how long pump is off. Amounts based on electricity price of 8.28¢/kWh.
Kilowatthour (kWh) and percentage (%) values based on pool type and size shown and pump/single-speed motor combination with typical load loss and power input of 735 W for above-ground pool and 1,312 W for in-ground pool; used 24 hours a day for five months, without a timer, according to off time suggested for timer.
Suggested pump off time – Above-ground pool
May: 12h
June: 10h
July: 10h
August: 10h
September-October: 12h
Suggested pump off time – In-ground pool
May: 10h
June: 6h
July: 6h
August: 6h
September-October: 10h