Dive into energy savings!
Regardless of the size of your pool or whether it's in-ground or above-ground, using a solar pool cover will help you consume up to 45% less energy (if used 16 hours a day). The cover will curb heat loss and keep the water warmer.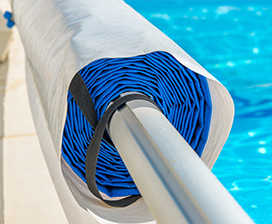 Benefits
Recoup the purchase price through electricity savings in the first summer.
Use fewer chemicals.
Avoid heat loss and wasting water.
Savings
Above-ground pool: Save up to $ 180 per summer!*
In-ground pool: Save up to $ 230 every summer!*
Note
Remove the cover completely before letting anyone in the pool and never let anyone swim underneath it when it's on the water.
Store the cover in a dry, shaded place.
Remove the cover every couple of days to oxygenate the water.
* Calculation basis:
* Energy consumption and savings depend on installation features and heater and cover use. Amounts based on electricity price of 8.28¢/kWh.
** Assumptions for kilowatthour (kWh) and percentage (%) values: Swimming pool type and size shown; heat pump properly sized for pool sizes shown, with seasonal coefficient of performance (COP) of 4; full sun exposure; typical Montréal climate; pool used and heated between May 21 and September 15, with thermostat set at 27ºC; cover used 16 hours/day throughout entire period.