Dive into energy savings!
Regardless of the size of your pool or whether it's in-ground or above-ground, you will save energy using a solar pool cover 16 hours a day. The cover will curb heat loss and keep the water warmer.
Save up to
45%
on heating costs using a solar pool cover.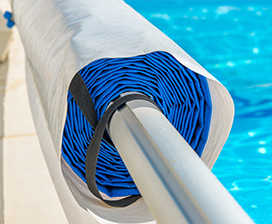 Benefits
Cost effective: By using a solar pool cover every day, you'll recoup the purchase price through electricity savings in the first summer.
Good for the environment: With a solar pool cover, there's less heat loss, evaporation and wasting water, and you'll also use fewer chemicals to keep your water clean.
Savings for both types of pools
Above-ground pool
24-ft. diameter (42 m2)
Save up to
$180
every summer**
In-ground pool
16 ft. x 32 ft. (48 m2)
Save up to
$230
every summer**
Note
Remove the cover completely before swimming, and never swim when the cover is on the pool.
Store the cover in a dry place in the shade.
Remove the cover every couple of days to oxygenate the water.
** Calculation basis
24-ft. above-ground pool. 16 ft. x 32 ft. in-ground pool.
Amounts based on an electricity price of 8.65¢/kWh.
Heating: Use of a heat pump properly sized for pool dimensions shown, based on current practice, with seasonal coefficient of performance (COP) of 4; full sun exposure; typical Montréal climate; pool used and heated between May 21 and September 15, with thermostat set at 27°C; cover used 16 hours/day throughout entire period.
Filtration: Pump used 24 hours a day for five months. Single‑speed pump: 735° W (above‑ground) and 1,312° W (in‑ground).