ENERGY STAR® certified windows for rental properties
The ENERGY STAR® Certified Windows for Rental Properties Program ended on December 31, 2016.
However, you have until April 30, 2017 to submit an application for financial assistance.
Important: The financial assistance will be paid within 60 days of receipt of your duly completed application.
A program that delivers clear benefits
By replacing the windows, you'll make your rental property more attractive to tenants while saving on renovation costs.
You'll also receive tips from your window retailer or manufacturer. They're familiar with the program and will help you fill out the application for financial assistance.
How to apply for financial assistance [pdf – 2.96Mb]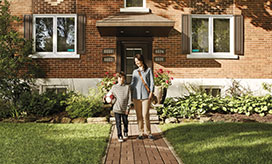 Benefits for you
Financial assistance covering about half the average cost difference between ENERGY STAR® certified windows and conventional windows
High-quality energy-efficient products that add value to your building
An opportunity to show everyone you're an environmentally responsible owner
Benefits for your tenants
Heating costs up to 10% lower
Greater comfort thanks to high-efficiency components :

Less condensation
Fewer drafts and chills
Improved sound insulation
Program at a glance
Eligible buildings
Only residential rental buildings of up to six storeys (a semibasement is considered to be a storey) that are heated electrically or by a dual-energy (fuel and electricity) system and located in climate zone 2 or 3 are eligible.
Ineligible buildings
Single-family homes that are rented out
Owner-occupied properties
General conditions
You must replace at least five windows per property with ENERGY STAR® certified windows for the climate zone in which the building is located.
The minimum surface area must be 8 sq. ft. per window.
Product must be purchased and installed between September 1, 2014, and December 31, 2016.
All applications for financial assistance must be received by April 30, 2017.
Patio doors are not eligible.
The application for financial assistance must include the following :

Detailed invoice (detailed estimates or any documents marked "estimate" are not considered to be invoices) ;
Procedure in five steps
Choose ENERGY STAR certified windows and find out what climate zone the building is located in.
Select the windows and glazing that are right for you.
Purchase your windows.
Determine the surface area of your eligible windows so you can calculate your financial assistance.
Fill out the application for financial assistance and mail it in.
Financial assistance
$1/sq ft for a double-glazed window
$5/sq ft for a triple- or quadruple-glazed window
Note regarding the absence of Hydro-Québec warranties
Warranties on installed products are those provided by manufacturers and installers. Hydro-Québec does not sell, manufacture, distribute, install or supply the products and therefore is not bound by the legal warranty. Hydro-Québec offers no warranty and shall not be held liable for any damage or harm arising from the installation or use of products or from the work performed.
Retailers and manufacturers
Purchase your windows from a window retailer or manufacturer. They'll help you fill out the application for financial assistance by supplying the ENERGY STAR® data sheets for your window models. Be sure to send in the data sheets with your application, as well as a copy of your sales receipt. Have your windows installed by a professional to make sure that you and your tenants benefit from all the advantages these products have to offer.