120/25-kV Adamsville Substation and 120-kV Supply Line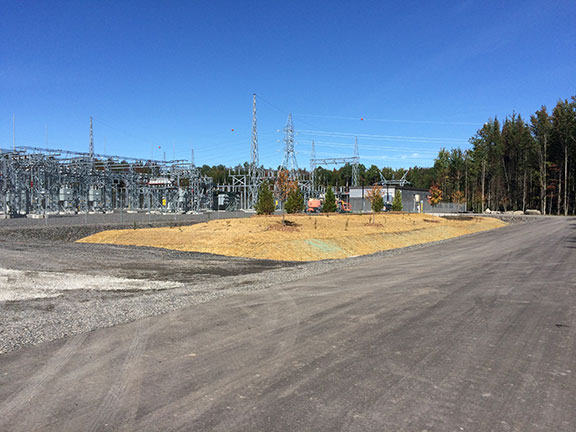 In May 2015, Hydro-Québec began construction of a new 120/25-kV substation on Boulevard de Montréal in Bromont. The substation will be connected to Cleveland substation, in Granby, by a new 120-kV double-circuit line that will be 8.3 km long. These additions to Hydro-Québec's transmission network are intended to meet the region's growing demands for electricity.
Since the line and the substation have been commissioned in september 2016, it is now possible to plan the dismantling of the current Bromont substation, located on Rue de Gaspé, along with the equipment at Cleveland substation. Many kilometers of the 49-kV line will aslo be dismantled.
Several overhead and underground additions and modifications [PDF 618 Kb] will be made to the distribution system to serve the region's customers.
Schedule
| | |
| --- | --- |
| Construction of substation | September 2016 |
| Clearing of right-of-way | October to December 2015 |
| Construction of line | November 2015 to October 2016 |
| Commissioning of substation and line | October 2016 |
| Dismantling of 49-kV lines | 2016 – 2018 |
| Dismantling of Bromont substation and certain sections of Cleveland substation | 2018 |
Description of the work stages
To learn more about the steps in building a power transmission line, visit the page Building a line. The stages are presented as they occur over time, even though some stages can occur simultaneously.