Electric Vehicle Charging Times and Locations
Electric vehicle owners get to fill up in a new way. There's no need to stop at a service station, as most charging takes place at home. The vehicle can also be charged at work for the trip home.
Video: Charging an EV
It takes between 12 minutes and eight hours to charge an all-electric vehicle. Why such a large range? Charging time depends on two main variables:
Charging station power. Charging stations come in three power levels: 120 V, 240 V and 400 V.
Battery capacity: The greater the capacity, the longer the charging time.
Most (90%) of the time, electric vehicles are charged at home. Owners can obtain a rebate of up to $600 on the purchase and installation of a 240-V home charging station. The remaining 10% of the time, drivers can use Electric Circuit public charging stations across Québec and in Ontario.
Three electric vehicle charging options
Electric vehicles can be charged at three voltage levels: 120 V, 240 V or 400 V.
Level 1 charge – Standard 120-V outlet
A Level 1 charge simply requires a standard 120-V outlet. The power required to charge an electric vehicle at this level corresponds to roughly that of a 1,400-watt air conditioner.
If you need to install a 120-V outlet, we recommend hiring a master electrician.
Level 2 charge – 240-V charging station
A Level 2 charge requires a 240-V charging station installed outside your home or in your garage. The power required to charge an electric vehicle at this level corresponds to roughly that of a 180-litre (40-gallon) water heater.
You can also charge your vehicle using a Level 2 charging station that is part of a public network such as the Electric Circuit.
We recommend hiring a master electrician to install a residential charging station.
Fast-charge – 400-V charging station or higher
Fast-charge stations use a direct-current high-power charge of 400 V or higher. These stations can only be accessed through public charging networks like the Electric Circuit.
Only all-electric vehicles equipped with a CHAdeMO or Combo socket are compatible with fast-charge stations. Not all plug-in hybrid vehicles are compatible.
Charging time for 40 km of range based on charging station power level
Approximate charging time for 40 km of range
Fast-charge station (400 v or higher)
All-electric vehicles only
Standard charging station (240 v)
Standard power outlet (120 v)
Plug-in hybrid vehicles have shorter charging times because they are equipped with batteries and have a much shorter range in electric mode.
Most electric vehicle charging is done at home

Plugging in at home and at work generally covers 90% of a vehicle's charging needs.
A growing number of public charging stations, such as Electric Circuit stations, are available for the remaining 10%.
According to a Hydro-Québec survey, 94% of Québec households that owned or intended to buy a vehicle had a parking space at home in September 2009. What's more, 89% of these households already had access to a standard 120-V outlet at their parking space.
Electric vehicle charging for multi-unit residential buildings [PDF 2 Mb]
The Electric Circuit public charging network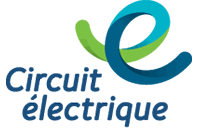 The Electric Circuit is Québec's largest public charging network.
Electric Circuit members drive with peace of mind, knowing that they can rely on the network for their charging needs while on the road. They have access to a 24/7 telephone help line run by CAA-Québec, as well as a mobile app and Web site to find the network's charging stations.
The Electric Circuit membership card also gives drivers access to FLO network charging stations in Québec and the eCharge Network stations in New Brunswick.