Electric Vehicle Charging Times and Locations
Electric vehicle owners get to fill up in a new way. There's no need to stop at a service station, as most charging takes place at home. What's more, if the workplace is equipped with a charging station, the vehicle can also be charged at work for the trip home.
Video: Charging an EV
It takes between 12 minutes and eight hours to charge an all-electric vehicle. Why such a large range?
The three electric vehicle charging options
Level 1 charge – Standard outlet
A Level 1 charge simply requires a standard outlet. The power required to charge an electric vehicle at this level corresponds to roughly that of a 1,400-watt air conditioner.
If you need to install an outlet, we recommend hiring a master electrician.
Level 2 charge – 7 kW charging station
A Level 2 charge requires a 7-kW charging station connected to a 240-V circuit installed outside your home or in your garage. Charging an electric vehicle at this level corresponds roughly to the electricity used by a 180-litre (40-gallon) water heater over a year.
You can also charge your vehicle using a Level 2 charging station that is part of a public network such as the Electric Circuit.
We recommend hiring a master electrician to install a residential charging station.
Fast-charge – 50 kW charging station or higher
DC fast-charge (DCFC) stations use a direct-current high-power charge. These stations can only be accessed through public charging networks like the Electric Circuit.
Only all-electric vehicles equipped with a CHAdeMO or Combo socket are compatible with fast-charge stations. Certain plug-in hybrid vehicles are compatible as well.
See the Electric Circuit website to check the charging options available for different EV models.
Charging time for 40 km of range
Level 2 – 7 kW charging station
Level 1 – standard outlet
The charging times indicated above are provided solely for informative purposes and apply only to all-electric vehicles. They do not apply to plug-in hybrids, which operate differently.
Most electric vehicle charging is done at home

Plugging in at home and at work generally covers 90% of an electric vehicle's charging needs.
A growing number of public charging stations, such as Electric Circuit stations, are available for the remaining 10%.
The Electric Circuit public charging network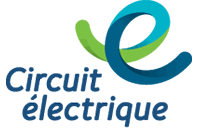 The Electric Circuit is Québec's largest and most reliable public charging network.
Electric Circuit members drive with peace of mind, knowing that they can rely on the network for their charging needs while on the road. They can locate charging stations on the website (lecircuitelectrique.com) as well as through the mobile app, which also has a trip-planning feature that takes charging stops into account. Members have access to a 24/7 telephone helpline run by CAA-Québec.
The Electric Circuit membership card also gives drivers access to FLO network charging stations and the eCharge Network in New Brunswick.