Electrical system upgrade between Aqueduc and Saraguay substations
Meeting the electricity needs of today and tomorrow
Hydro‑Québec will be investing over $500 million to upgrade its transmission system in the north-south axis of the island of Montréal, between the boroughs of Saint-Laurent and LaSalle.
To ensure the project's integration with its partners' vision of urban development, Hydro‑Québec intends to cooperate with affected towns, boroughs, organizations and citizens in order to support sustainable mobility and greening initiatives in the transmission line right-of-way.
The electrical system upgrade between Aqueduc and Saraguay substations project includes:
the existing 120-kV Aqueduc–Saraguay overhead transmission line must be rebuilt at 315 kV over a distance of 18 km, between Aqueduc substation in LaSalle and Saraguay substation in Saint-Laurent. The line will be rebuilt it in the existing right-of-way, but the route may be optimized at a later stage to mitigate its impacts according to technical, economic, environmental and social criteria.
the conversion of three 120-kV transformer substations—Rockfield substation (in Lachine), Hampstead substation (in Côte Saint-Luc) and Laurent substation (in Saint-Laurent)—to 315 kV.
Hydro‑Québec will also conduct a preliminary study for the construction of a new substation and supply line in the Dorval area.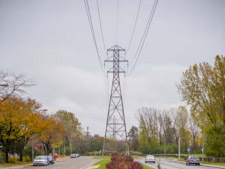 Project news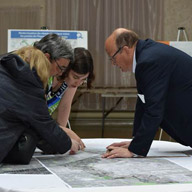 Public information sessions
Thank you to everyone who came to talk to the project team in LaSalle on May 14, in Saint-Laurent on May 28 and in Lachine on June 18.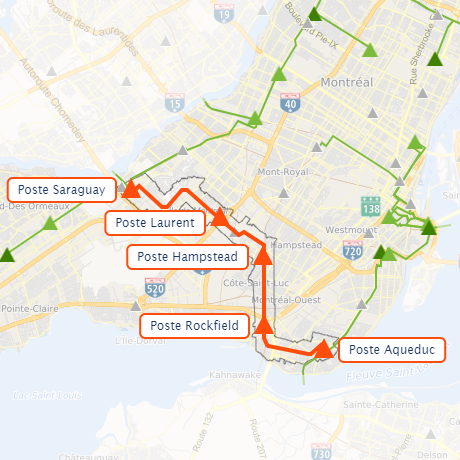 Explore detailed project information
This interactive map contains information on various aspects of the project.
Press release
Hydro‑Québec and its municipal partners working together to create a green corridor.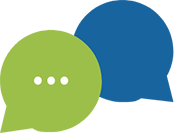 Questions? Comments?
We aim to establish a dialogue with you. Please submit any questions or comments you may have on the project.
Let's talk
Stay informed
Sign up for our mailing list to receive project updates.