Appalaches-Maine Interconnection
New line route variant in Thetford Mines and Saint-Joseph-de-Coleraine under study
As part of the project authorization process, Hydro-Québec filed an environmental impact assessment with the Ministère de l'Environnement et de la Lutte contre les changements climatiques in summer 2019. The study presents the line route selected by Hydro-Québec for the project.
The City of Thetford Mines has since proposed a new line route variant that would bypass the residential sector of Black Lake by heading southeast, then skirting Lac Caribou to the west to eventually connect with Hydro-Québec's selected line route at Lac Noir.
Hydro-Québec consulted the population on this new line route variant to gather questions, concerns and opinions.
The consultation period is now over. The results are available at Registre des évaluations environnementales du Ministère de l'Environnement et de la Lutte contre les changements climatiques. (in French only)
See visual simulations
Description of the variant
The line route variant, whose total length is 11.7 km, is located entirely on private land in Thetford Mines (7.2 km) and Saint-Joseph de Coleraine (4.6 km).
The route would have 38 vertical configuration towers and two larger towers to allow the line to cross the former British Canadian pit mine, now flooded. A 43-m right-of-way would be maintained.
The variant would approach the southeast end of the residential core of Old Black Lake and an area reserved for a proposed forest resort development in Saint-Joseph-de-Coleraine. It would involve creating a new line corridor for some 10 km (89% of the variant's total length), roughly 4.8 km of which would affect a wooded, hilly landscape to the south of Thetford Mines. This landscape is visible from a great distance from various points and is valued for its natural appearance.
Consult the environmental impact assessment and its supplement (in French only)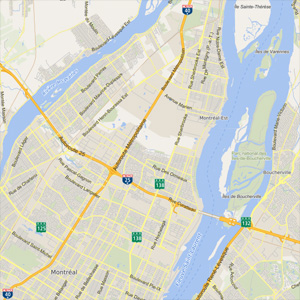 Legend
Viewpoint

Planned tower

Line route selected

Tower for the line route variant

Line route variante studied at the request of the town of Thetford Mines (March 2020)

Crossing point

Appalaches substation