Energy transition and innovation
Managing electricity consumption in a northern climate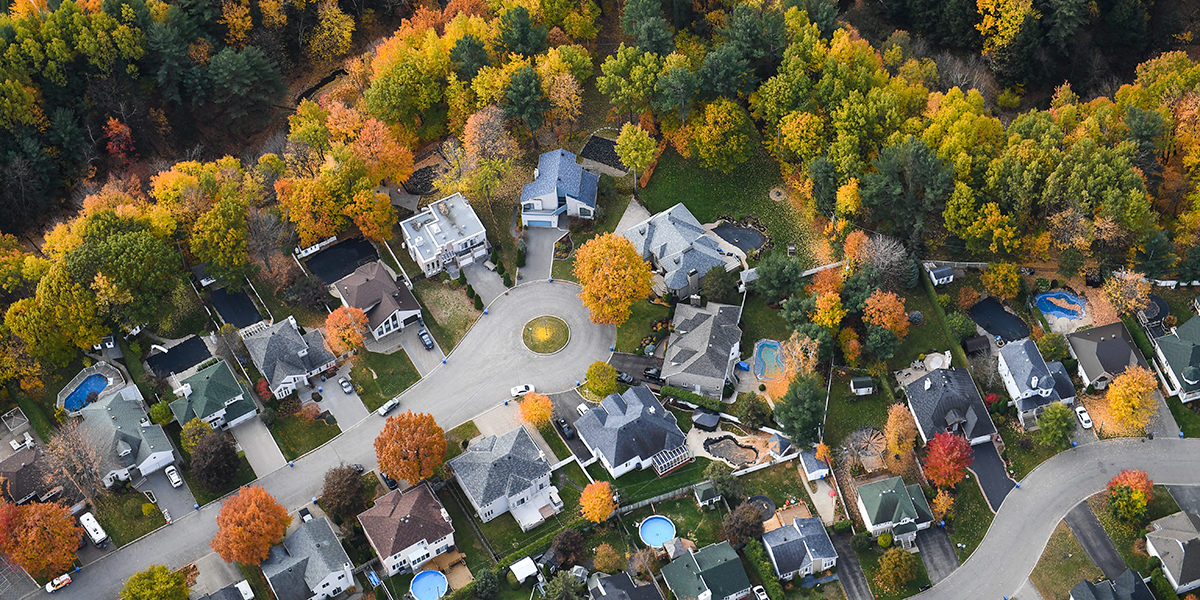 Quebecers are among the world's largest consumers of electricity. This is due to two main factors: the large amount of energy needed for heating during our harsh winters and the low cost of electricity in Québec.
Almost all of the electricity consumed in the province is generated by water and wind. We also buy electricity generated from other renewable sources such as biomass. Throughout the year, power sales and exchanges take place with other Canadian provinces and neighboring U.S. states.
We currently have a number of contracts for deliveries of electricity generated by other sources such as wind power, biomass and small hydro.
Supply is the electricity we can deliver to you, whereas demand corresponds to your electricity needs. Our Electricity Supply Plan 2020–2029 provides a detailed explanation of the balance between supply and demand. In addition, we offer a number of tools to help you use energy more wisely in cold weather, especially during peak periods.
Net electricity sales outside Québec - 2019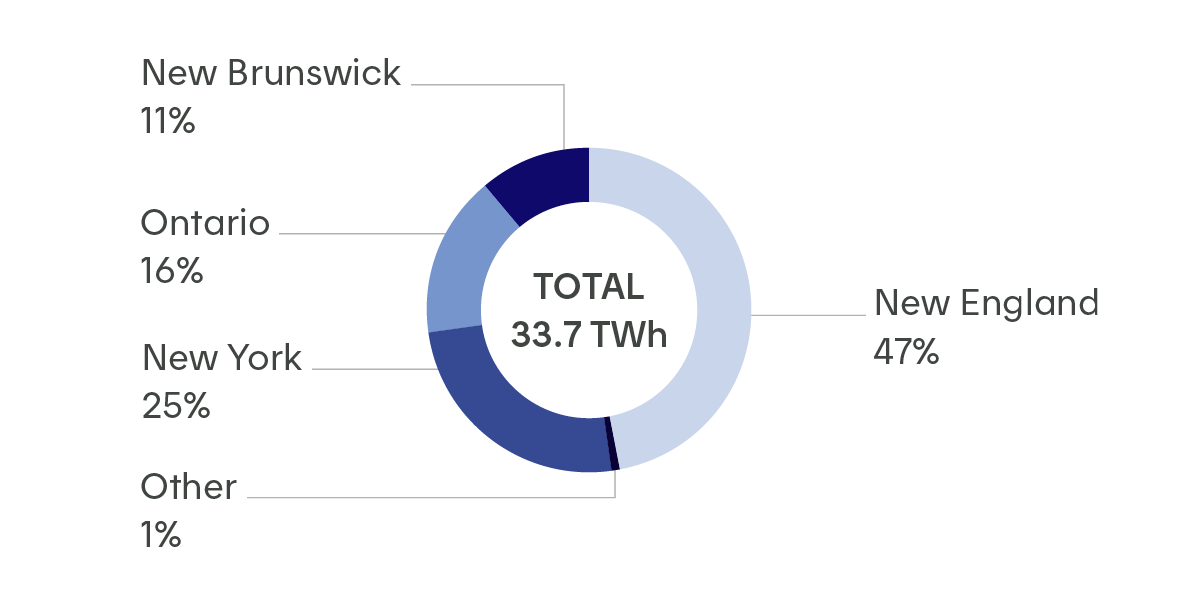 Achieving green autonomy: Hydro-Québec's off-grid systems
Several villages in remote regions are not connected to the main power grid and are supplied by off-grid systems. A portion of the electricity from these systems is generated using fossil fuels. Hydro-Québec operates off-grid systems in five regions: Îles-de-la-Madeleine, Nunavik, Basse-Côte-Nord, Schefferville and Haute Mauricie.
The process to partially or totally convert the off-grid systems to cleaner energy sources is currently under way. All systems will be converted by 2025.
In 2019, these off-grid systems generated 451 GWh of power to serve close to 20,000 customers. They include 23 thermal power plants (132 MW) as well as two hydraulic generating stations, Lac-Robertson (21.6 MW) and Menihek (17 MW). Menihek belongs to a third party.
What is the most economical and ecological way of managing electricity consumption? Energy efficiency.
Using electricity wisely means making informed choices. There are simple things we can do every day to collectively reduce our energy consumption. This way, we can avoid the extra costs associated with purchasing electricity or adding more equipment.
The company offers several energy efficiency initiatives adapted to its various customers (i.e., residential, business, low-income and in remote regions) to help them save money.
2019 highlights
New annual energy savings – Energy effiency initiatives (GWh)

| | 2016 | 2017 | 2018 | 2019 |
| --- | --- | --- | --- | --- |
| Residential customers | 202 | 200 | 207 | 211 |
| Business customers | 330 | 321 | 245 | 257 |
| Off-grid systems | 2 | 3 | 3 | 10 |
| Energy savings | 534 | 524 | 455 | 478 |
Innovating to serve our customers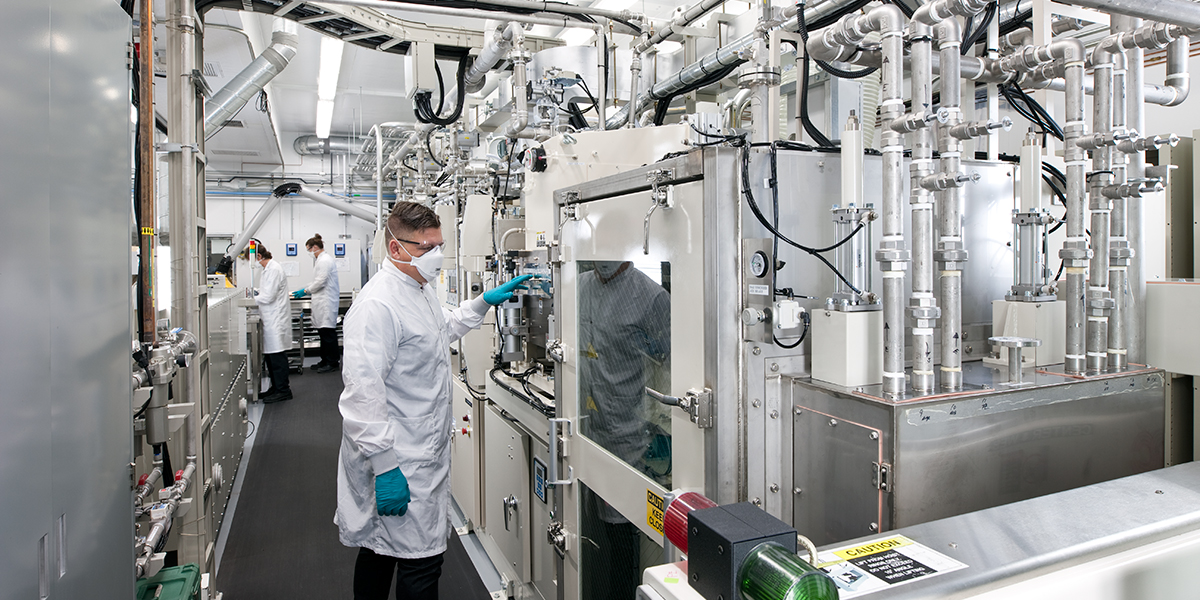 Since our customers are central to our approach, we need to understand what motivates them to adopt emerging technologies. Our customers' needs and our commitment to the energy transition are what drive our research.
We are actively involved in transportation electrification and in researching alternative fuels like hydrogen. We also develop renewable energies and innovative technologies that integrate storage, self-generation and home automation management systems to better meet the needs of tomorrow's customers.
The energy transition relies in good part on technologial innovation in the following areas:
Energy efficiency
Smart grid management
The optimization of energy use
Breakdown of IREQ innovation efforts relates to sustainability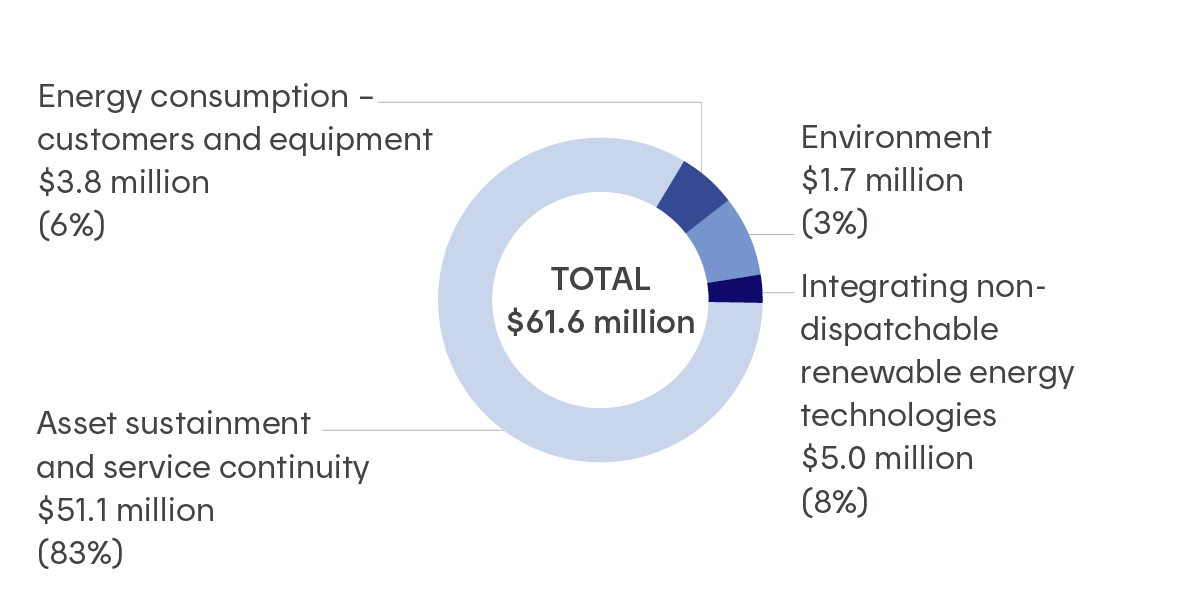 2019 highlights
Hydro-Québec is among the top Canadian R&D spenders in the electricity industry. With a budget of $102.5 million, the company's research institute, IREQ, develops state-of-the-art technology in multiple fields related to power systems and renewable energy.
For more information, follow these links:
Moving towards cleaner transportation
Transportation electrification is happening: electric vehicle drivers have access to more and more charging stations in Québec. We are continuing to make our customers aware of the advantages of electric vehicles and our researchers are developing the materials for tomorrow's batteries.
Not only does Québec have an abundance of clean, affordable energy, but it also offers motorization and energy storage solutions. Our energy and our expertise are key assets in efficient electric transportation.
Since the transportation sector is the main source of GHG emissions in Québec, the adoption of electric vehicles, active transportation and public transit is an important way to reduce air pollution.
Hydro-Québec contributes financially to strategic projects and participates in the pilot projects of public transit authorities. For the transport of merchandise and to meet its own transportation needs, the company collaborates on pilot projects for charging vehicle fleets and works to electrify its own fleet.
2019 highlights
Strong growth in the Electric Circuit, the largest public charging network for electric vehicles in Québec and Eastern Ontario. The network comprises 2,389 charging stations, including 278 fast chargers, in 17 of Québec's administrative regions. Eastern Ontario is served by the Electric Circuit with a total of 20 charging stations, including 12 fast chargers.
Adoption of an electrification plan for Hydro-Québec's vehicle fleet and increase in the number of hybrid or plug-in electric vehicles from 294 in 2018 to 399 in 2019.
Capitalizing on solar power
Solar power is becoming less and less expensive to generate and it could soon replace energy generated by natural gas, oil, diesel and coal. Solar power represents business opportunities for Hydro-Québec. In fact, our current development strategies include the construction of solar generating stations.
The energy transition is also an opportunity to:
Maximize export revenue
Pursue acquisitions outside Québec
Boost power grid flexibility
Changing Cost of Photovoltaic Solar Power Systems – U.S. Residential Market (2010–2018)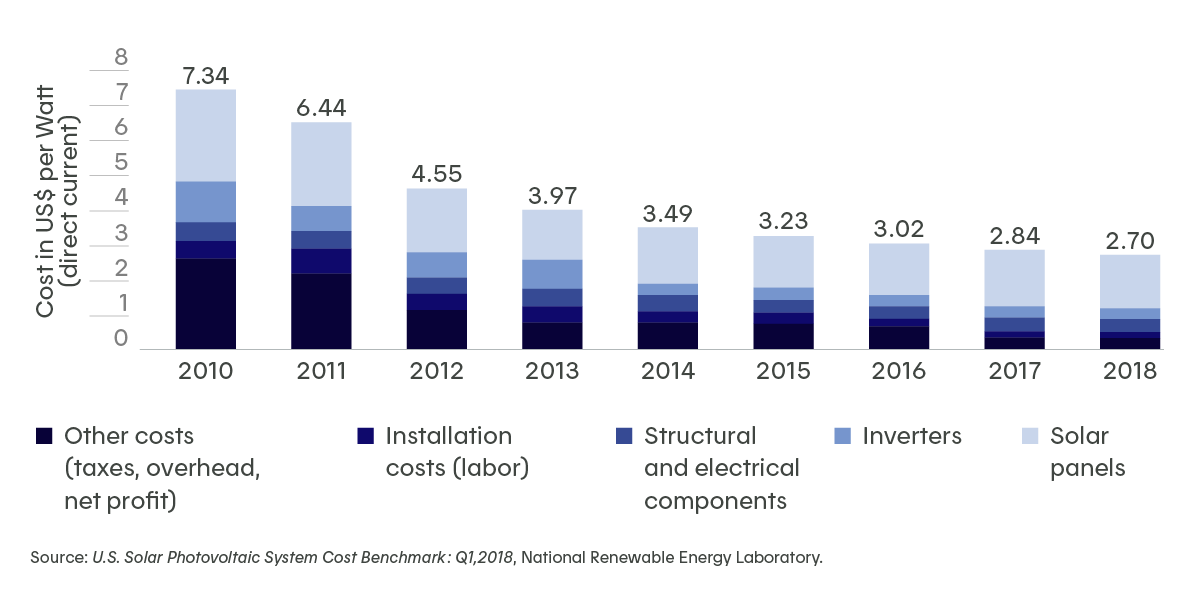 For more information, follow these links:
Hydropower and the environment
The effects of climate change are significant, and we are working hard to reduce our dependence on fossil fuels.
In North America, our electricity exports enable us to reduce greenhouse gas (GHG) emissions. But that's not all we do: our goal is also to decarbonize Québec's economy while incorporating environmental management and biodiversity preservation into all our activities.
The many benefits of hydropower
Québec has vast hydraulic resources in the form of some 500,000 lakes and 4,500 rivers. Our landscape bears witness to the immense hydroelectric potential we have been able to develop over time.
Hydropower, whose impacts are known and controlled, offers an ideal solution to the major challenges faced by North America in:
reducing greenhouse gas emissions
ensuring a secure supply of electricity
The mercury issue
GHG emissions and reservoirs
Comparing power generation options and electricity mixes
Hydroelectric developments and fish
For more information, follow these links:
Québec power: A solution in the fight against climate change
Some 99.6% of the electricity we deliver to you is clean, renewable power that contributes to preserving air quality and reducing the effects of climate change. However, some of our operations emit atmospheric contaminants and produce greenhouse gases, or GHGs, for which mitigation measures are implemented.
GHG emissions are one of the main causes of the deterioration in the quality of life of living species.
If we are to correct this situation, we must decarbonize! The objective of decarbonization it to replace hydrocarbons used to make or use products with an energy source that produces no GHG emissions.
Electricity as green energy
The power industry is responsible for 12% of all GHG emissions in Canada, but less than 1% in Québec. Québec's outstanding record in this repect is largely due to that fact that hydroelectricity—which is clean, renewable energy—constitutes almost all the power generated by Hydro-Québec.
In addition, the company strives to not only reduce the GHG emissions produced by its operations, but also to preserve biodiversity and manage environmental impacts as part of its business processes.
With abundant, affordable, zero-carbon electricity at their disposal, Québec companies have a competitive edge over those operating within fossil-fuel-dependent economies. Many organizations throughout the world are joining the fight against climate change by opting to use clean electricity to meet their energy needs.
Zero emissions: Hydro-Québec's solution for the Northeastern U.S.
For the past two decades, Hydro-Québec has been selling environmentally friendly, competitively priced electricity to neighboring systems. Québec's hydropower benefits our neighbors in two ways, in that it minimizes GHG emissions and is sold at very stable prices.
Emissions avoided by net electricity exports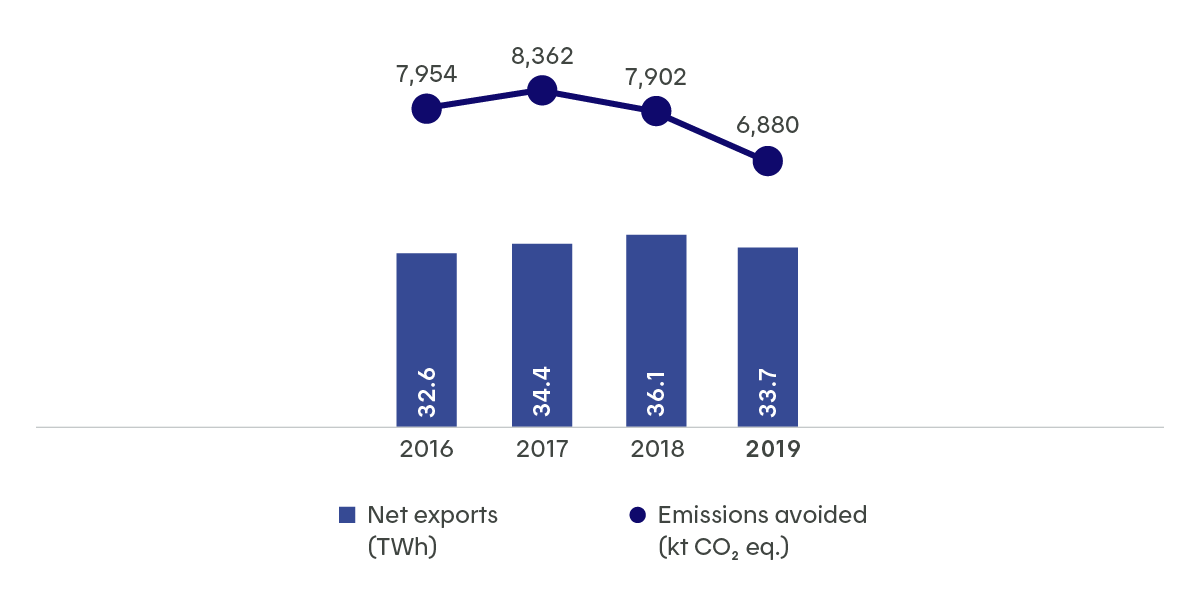 The clear choice – adapting to climate change
Hydro-Québec is increasingly aware of the effects of climate change and extreme weather conditions on its operations, whether from violent winds, tornadoes or more frequent heavy precipitation.
For the past 17 years, Hydro-Québec has been collaborating with Ouranos, a research consortium established by the Québec government, Environment Canada and Hydro-Québec in 2001, to better understand climate change and its effects. Together, these organizations are working to find solutions that will enable us to adapt to these changes.
2019 highlights
Creation of working groups bringing together all the business units that will focus on Hydro-Québec's climate change adaptation response.
For more information, follow these links:
Environmental management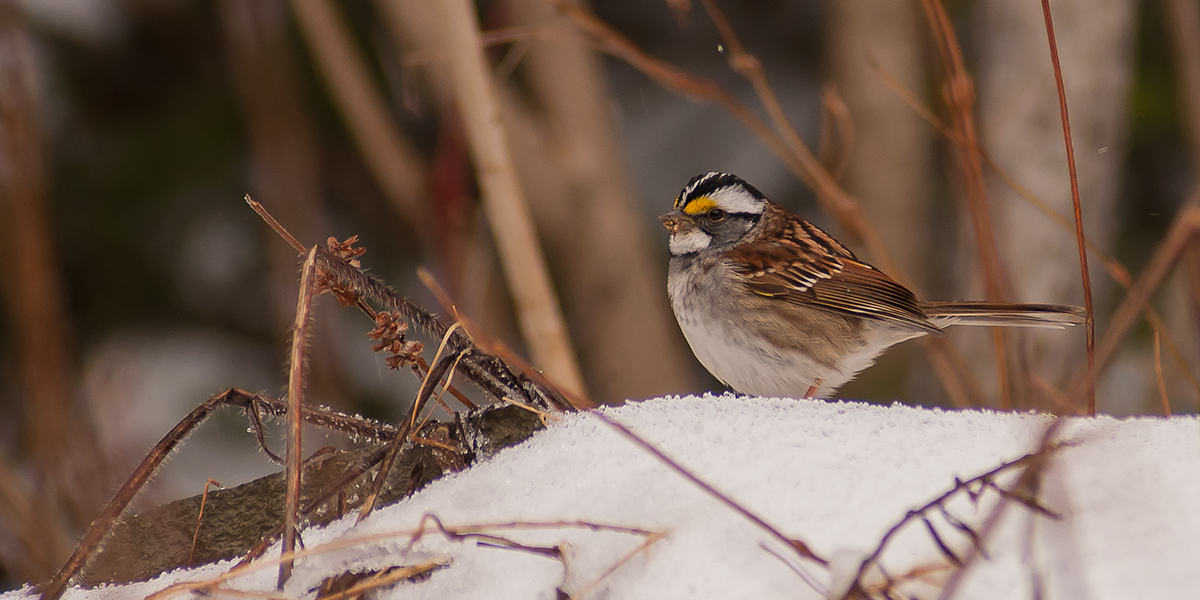 Our large-scale infrastructure projects and current operations have impacts on the environment. We do our utmost to reduce or mitigate these negative effects by reducing our atmospheric pollutant emissions, preserving soil and water, protecting biodiversity and promoting ecoresponsible consumption.
The objective of environmental management is to take into account, assess and reduce the environmental impact of the company's operations.
Hydro-Québec carefully monitors its projects during construction and carries out rigorous environmental follow-up of all its facilities in operation.
We have incorporated environmental and social criteria into our process for acquiring goods and services. This practice aims to reduce environmental impacts, increase social spinoffs and enhance the economic viability of our suppliers.
Recovery and reuse of insulating oil (litres)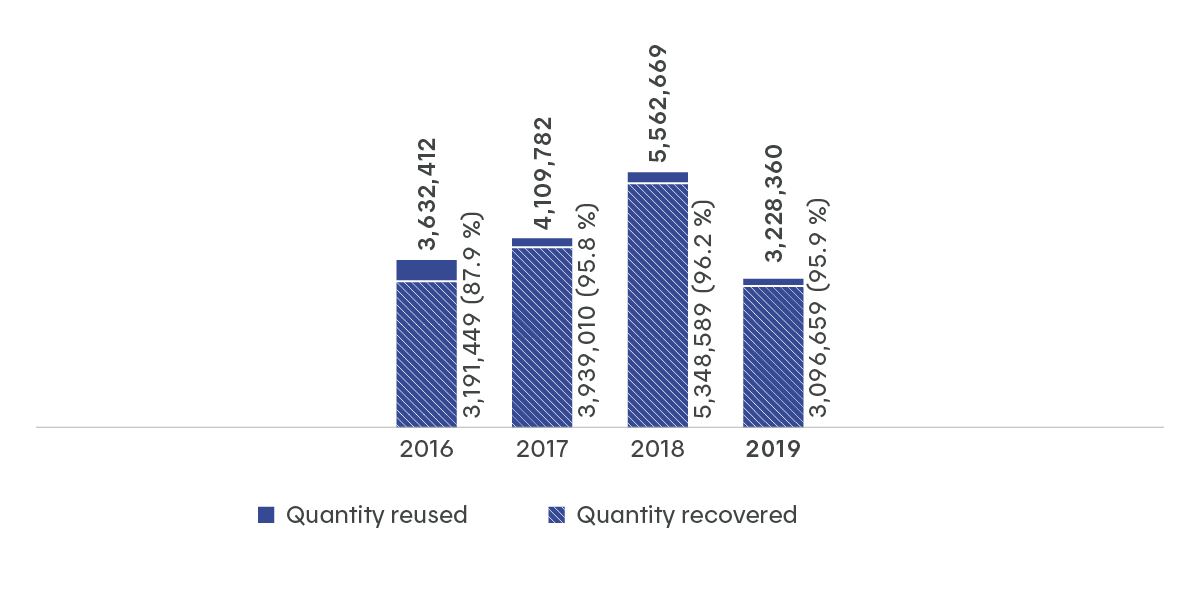 ISO 14001 standard
The company recently implemented a new environmental management system (EMS) in compliance with the ISO 14001:2015 standard. The process involved merging seven EMSs into one.
For more information on environmental management at Hydro-Québec, consult our latest sustainability report.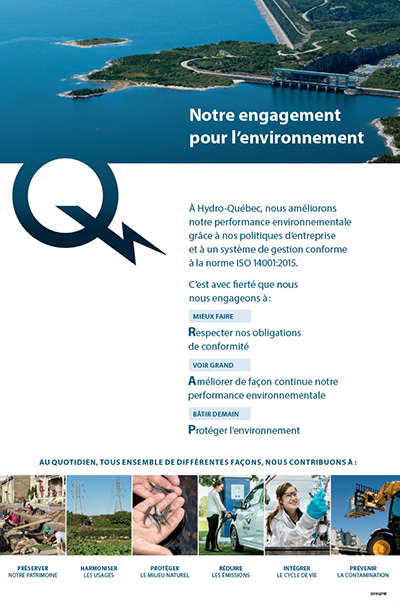 2019 highlights
2,430 Hydro-Québec employees participated in at least one environmental training activity (2,267 people in 2018).
Biodiversity
As part of its operations, Hydro-Québec works to preserve biodiversity and protect species at risk and various ecosystems. For example we always make sure that the areas we develop are comparable to the surrounding natural environment in terms of species diversity and biological productivity.
2019 highlights
Following the dismantling of a transmission line in the municipality of New Richmond, an osprey nest found on one of the H-frames was moved to the Bioparc de Bonaventure, which now uses the nest to talk about osprey, its habits and its nest-building technique.
For more information, follow these links:
Corporate responsibility and social commitment
The energy sector is changing and electricity generation worldwide is increasingly green
Our hydropower benefits our customers in two ways: it is clean and renewable, and is sold at very stable prices. We are committed to this energy transition. We develop innovative technologies that allow us to provide our customers with new products and services and we support the development of other renewable energy sources.
Powering communities
We support Québec's cultural, social and economic life with donations and sponsorships for programs and activities in specific areas. In this way, we fund concrete initiatives whose positive environmental and social impacts serve the interests of local communities throughout Québec.
Investing in the community enables Hydro-Québec to:
Strengthen our corporate citizenship
Maintain or improve our community relations
Promote our strategies, programs and services.
Community investments ($K) by category from 2016 to 2019

| Category | 2016 | 2017 | 2018 | 2019 |
| --- | --- | --- | --- | --- |
| Donations and Sponsorships, including Centraide | 17 526 | 19 107 | 19 078 | 18 910 |
| Educational institutions | 5 881 | 3 274 | 3 170 | 6 825 |
| Integrated Enhancement Program | 3 001 | 4 213 | 3 350 | 1 076 |
| Fondation Hydro-Québec pour l'environnement | 971 | 738 | 765 | 458 |
| Othera | 716 | 857 | 958 | 864 |
| Total | 28 095 | 28 207 | 27 321 | 28 133 |
a. The Other category includes Youth Products, the art collection and presentations at universities and colleges.
For more information, follow these links:
Social acceptability and public participation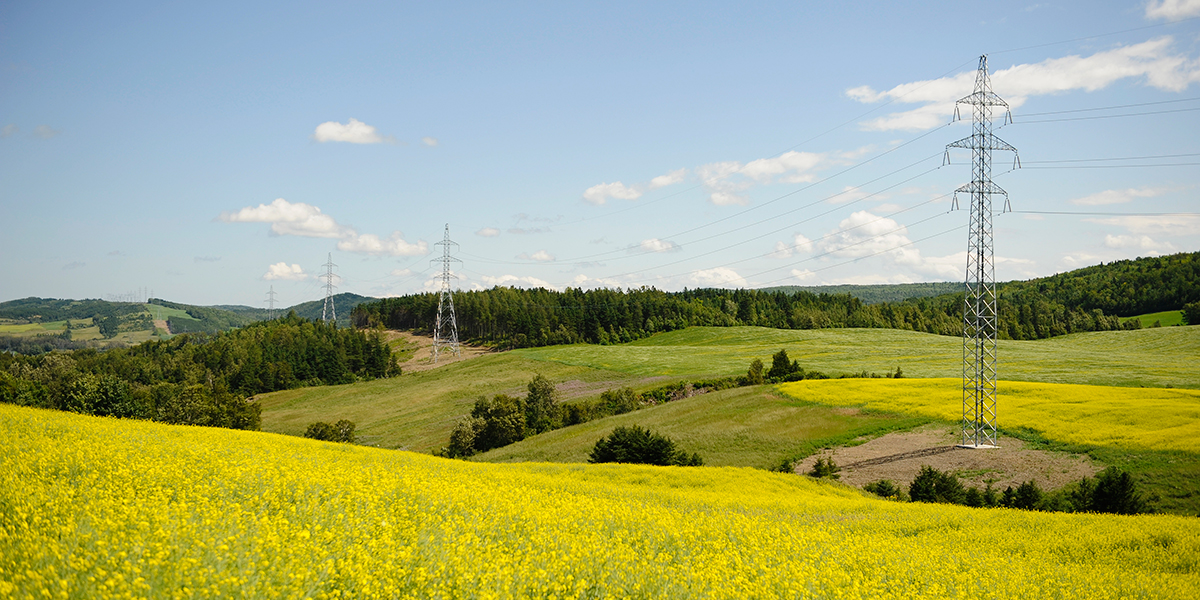 Every year, we study or carry out around 1,100 construction and refurbishment projects. The vast majority of these projects involve the maintenance of our facilities and have no impact on the environment.
Every project is unique and the measures taken to promote social acceptability may vary, depending on the host community's expectations.
A project's social acceptance does not necessarily mean there is no opposition, but rather that as broad a consensus as possible has been achieved. By securing public participation and working stakeholders from the beginning of its projects, Hydro-Québec encourages communities to be involved in project planning and in creating the conditions that will make the projects acceptable and mutually beneficial.
2019 highlights
Public information session was held in Grenville-sur-la-Rouge to explain the ongoing improvements at Chute-Bell dam and to answer residents' questions. In the spring, the Rivière Rouge reached a record flow rate that resulted in the preventive evacuation of residents located near the dam.
A coordination committee was established and weekly meetings were held regarding the reconstruction of 120-kV lines between Vignan, Templeton and Interconnexion-Maclaren substations on the territory of the city of Gatineau. Thanks to the committee, the organizations concerned (the city, the transit company, firefighters, police officers, ambulances, the hospital, etc.) were informed of upcoming activities to ensure the work was carried out optimally.
Relations with Indigenous communities
Indigenous communities are unique and we believe it is important that their cultures and traditional land-use activities be respected. With this in mind, we adapt our practices and processes to their reality and strive to foster mutually beneficial partnerships with them.
Found throughout Québec, Indigenous companies supply Hydro-Québec with a number of products and services and are often associated with local procurement. In 2018, contracts worth $97 million (3% of all contracts) were awarded to Indigenous companies.
Percentage of contracts awarded to Indigenous companies in 2018 by goods and services category

| Goods and services category | Percentage (%) |
| --- | --- |
| Air services | 33.81 |
| Building operation and maintenance | 31.23 |
| Building construction | 14.34 |
| Road construction | 5.98 |
| Vegetation control | 3.79 |
| Power generation infrastructure | 2.88 |
| Environmental services | 2.69 |
| Othera | 5.29 |
| Total | 100.00 |
a. The Other category encompasses undetermined products and services, telecommunications network construction, power line maintenance, petroleum products, computer hardware, telecommunications and related services, transportation infrastructure, corporate services, transmission services and logistics, and signage.
Watch our tribute to the Innu workers at the Romaine jobsite (in French)
2019 highlights
114 employees participated in the training program on Hydro-Québec and Indigenous people.
[Under the Apatisiiwin Agreement, 99 Cree employees (74 men and 25 women) are still employed by the company as power system electricians, mechanics, and telecommunications and automatic controls operators and technicians.
Land use
Land use and development in Québec requires an integrated multidisciplinary approach.
Hydro-Québec takes land-use planning into account in managing its operations and carrying out its projects. It continually reviews its practices and processes to ensure that its power grid operates in harmony with current and future land use.
From its generating stations, which are often located in remote regions, to its urban distribution system, Hydro-Québec designs its facilities in consideration of the distinctive characteristics and constraints of the land where they are built.
In operating our many facilities (reservoirs, dams, control structures, etc.), we take care to preserve the quality of the water bodies so the communities along their shores can also use them.
2019 highlights
We adopted temporary measures, including a road escort service for crossing the Highway 138 bridge to ensure the safety of snowmobilers. Hydro-Québec also committed to building permanent footbridges on the Romaine and Aisley rivers, which no longer freeze due to the combined effects of the operation of the Romaine complex and adverse weather conditions. (Côte-Nord)
We dismantled, at the community's request, a 1.4-km section of a transmission line between Donnacona and Cap-Santé as well as five towers that had been out of order since the Abitibi Bowater plant was closed. We restored the land where the towers and cables were located. (Capitale-Nationale)
Our contribution to preserving our heritage
We endeavor to preserve and develop the value of Québec's built, archaeological and technological heritage. We achieve this by not only ensuring that our facilities blend into the surrounding landscape, but also by offering guided tours of Hydro-Québec facilities in six of Québec's regions.
Health and safety
Everyone wants quality service at competitive rates. Our employees and suppliers also want to work in a safe, healthy work environment.
As we conduct our operations, the health and safety of our employees, customers and anyone likely to be near or in our facilities are of vital importance to us. Since electricity use can be hazardous, we inform the public of the precautions that should always be taken. We also study the potential effects of our operations on human health so that we can improve our understanding and take all necessary measures to mitigate risks and inconveniences.
Public and consumer health and safety
We monitor our facilities and manage our operations with a view to reducing risks and nuisances.
We maintain secure access to our facilities and inform the public about the hazards of electricity use and the risk of drowing near hydropower facilities.
Employee and contractor health and safety
Hydro-Québec has always maintained high occupational health and safety standards. However, analyses conducted in the wake of unfortunate incidents have revealed that there is room for improvement in certain areas. Therefore, we have initiated a review of our processes which, once completed, will enable us to lay the foundations for a major culture shift in this regard.
For more information, follow these links:
Our customers come first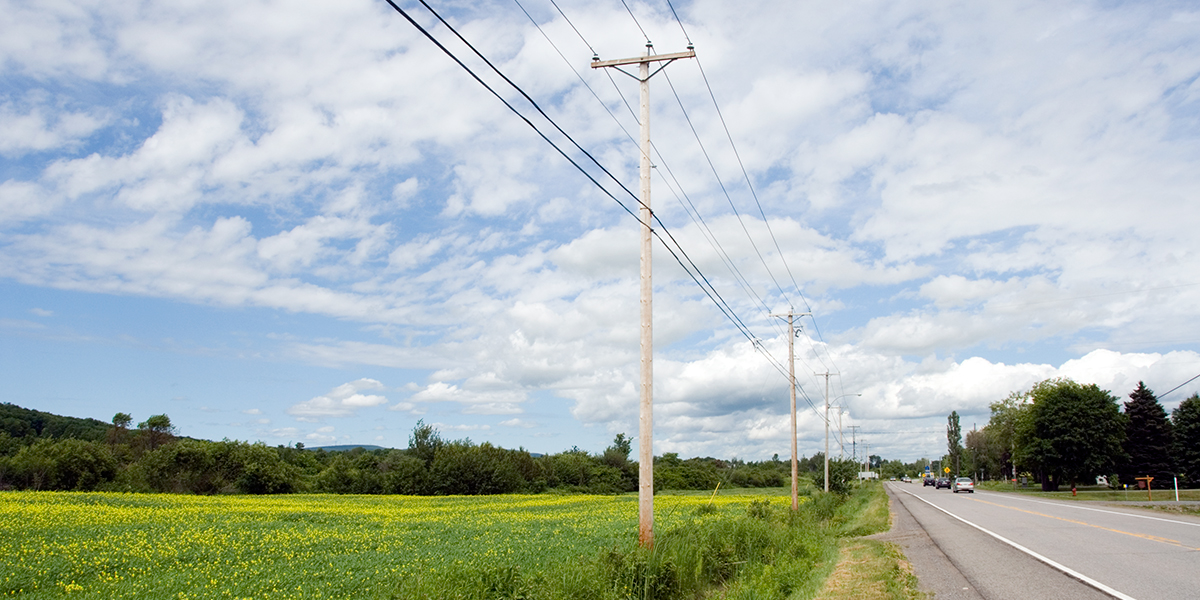 Improving the customer experience
Since 2015, we have been implementing a number of ways to improve the quality of our residential and business customer service, including:
A mobile app and online services
Expanded call center hours
Chat sessions with advisors
Specialized programs for business customers
Call wait times and the number of complaints and claims are key indicators. The customer service representatives in our 14 call centers throughout Québec handle more than three million calls per year.
Average call wait times at customer relations centers from 2016 to 2019

| | 2016 | 2017 | 2018 | 2019 |
| --- | --- | --- | --- | --- |
| Average call wait times (seconds) | 99 | 84 | 87 | 104 |
Our customer relations centers receive an average of 12,000 calls per day. Naturally, the number of calls has an impact on the average call wait time, which also varies from one year to another based on the severity of the winter (heating) and summer (air conditioning), as well the number of moves and outages. Finally, many questions can now be resolved through self-service options, but the more complex ones that take longer to process are still generally dealt with over the phone. Hydro-Québec's maximum target call wait time is 110 seconds.
Customer complaints and claims (number)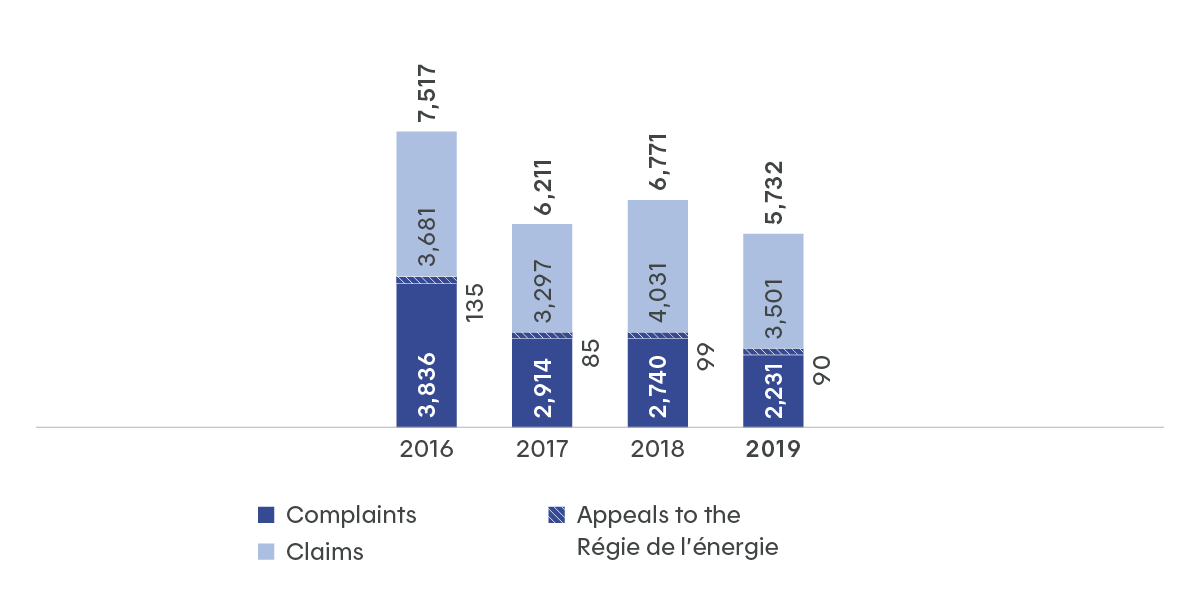 The number of complaints dropped 19% compared to 2018. This decrease reflects our sustained efforts to ensure we serve our customers well, communicate proactively and make improvements based on the comments we receive.
To learn more about Your Customer Space, watch this short video (in French).
2019 highlights
The Régie de l'énergie approved a new complaint examination procedure whereby the maximum period for processing a customer complaint was reduced from 60 to 30 days. To improve the visibility and accessibility of the change, it was shared via an insert attached to the Conditions of Service.
Reliable electricity service
Delivering reliable electricity service to Quebecers and our neighbors requires:
Meticulous supply management
The proper functioning of substations, transmission and distribution lines
Therefore, we carry out regular maintenance and repair work on our structures and facilities, along with work to extend or modify the transmission system. We also make sure that vegetation is kept at a height and density compatible with system operation.
Service reliability is measured by the system average interruption duration index (Saidi), which reflects the average service interruption time per customer. Some scheduled interruptions are required for system maintenance, while unscheduled outages are caused by bad weather, invasive vegetation or equipment failure.
System Average Interruption Duration Index (minutes of interruption per customer)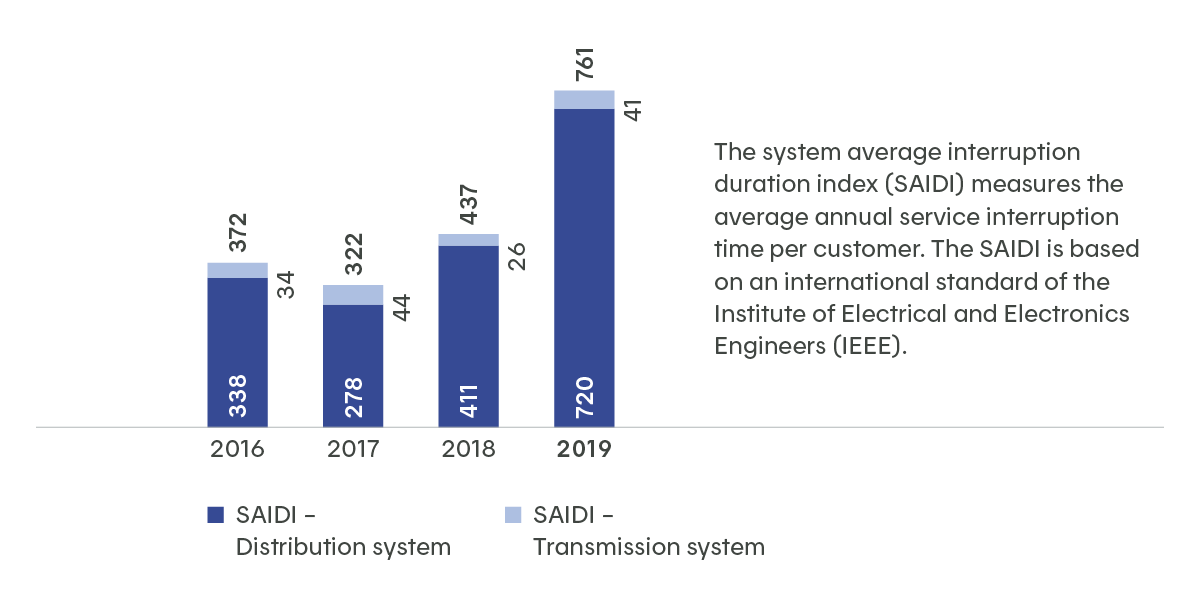 For more information, follow these links:
A responsible supplier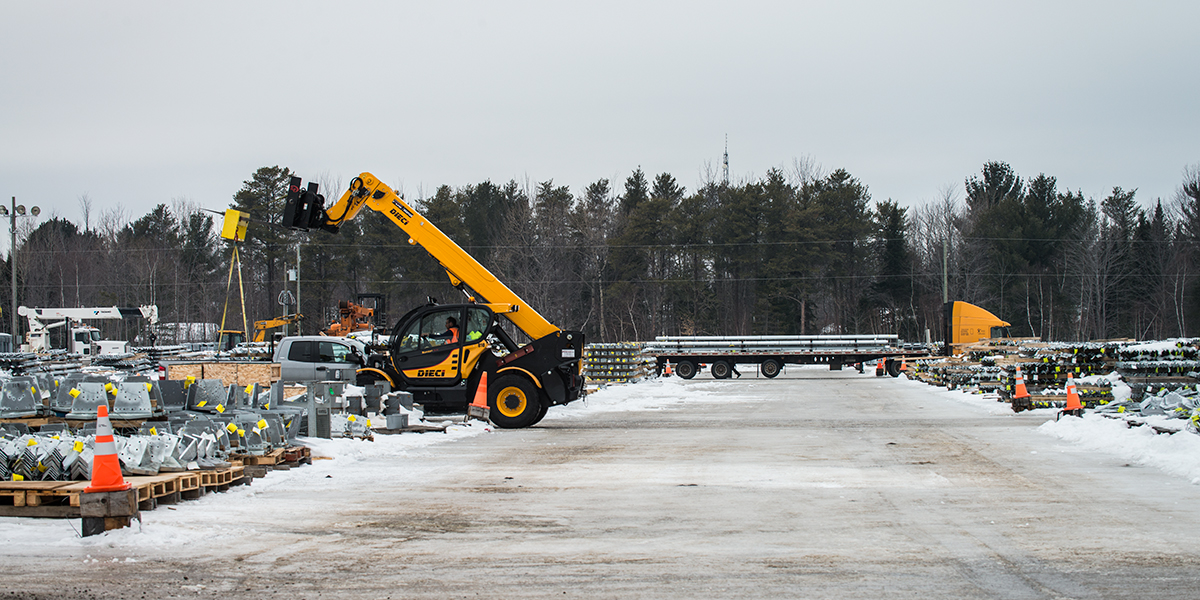 A number of our large-power customers have adopted policies or practices for meeting the highest standards in responsible procurement. In that vein, they want to make sure their suppliers, including Hydro-Québec, abide by responsible business practices and provide them with products and services that comply with their specifications.
For more information, follow this link: