Interconnexion Québec-New Hampshire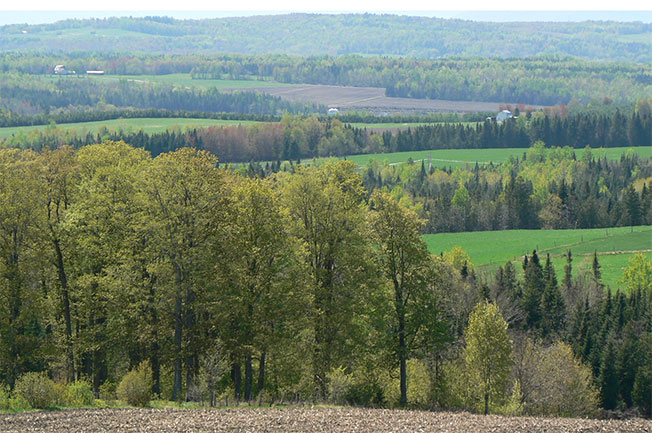 The goal of this Hydro-Québec TransÉnergie project is to increase the energy interchange capacity between Québec and New England by building an interconnection to link Québec's power grid with New Hampshire's. The line will therefore be used to export electricity to the U.S.A.
Electricity sales outside Québec are highly profitable for Hydro-Québec. In 2016, they contributed for $803 million, or 28% of Hydro-Québec's net income. Approximately half of Hydro-Québec's power exports are to New England. An additional interconnection would increase our capacity to export to a very promising market for Québec.
Connecting the grids
The project involves the construction of a 320-kV direct-current transmission line, about 79 km long. This line will be extended into the U.S.A. and will connect Des Cantons substation in Val-Joli to Franklin substation in southern New Hampshire. For further information on the project in New Hampshire, visit the Northern Pass Web site.
On the Québec side, to supply the planned transmission line, equipment that converts alternating current to direct current will be added to Des Cantons substation. The existing perimeter of Des Cantons substation will not be modified.
Study area
From the starting point of the planned line at Des Cantons substation in Val-Joli to the Québec/New Hampshire border, the study area covers 571 km2. The north and central sections of the study area are on agroforest land in the Appalachian plateau, while the south section extends to the White Mountain foothills. Population density is greater in the Appalachian plateau than in the border area.
The study area covers parts of three regional county municipalities (MRCs): Val-Saint-François, Haut-Saint-François and Coaticook. Within these MRCs, it crosses through the following municipalities: Val-Joli, Stoke, Ascot Corner, Cookshire-Eaton, Saint-Isidore-de-Clifton, Martinville, Sainte-Edwidge- de-Clifton, Saint-Malo, Saint-Venant-de-Paquette, East Hereford and Saint-Herménégilde.