Transmission lines are much higher than distribution lines. The towers vary in height from 14 metres to over 100 metres. They come in various shapes and may be made of metal (lattice or tubular), concrete or wood.
Hydro-Québec has the right to access rights-of-way and control the vegetation around lines and substations in order to ensure the operation, maintenance, servicing and protection of the transmission system. These rights involve:
Full ownership of buildings and land
Aerial and underground servitudes
Hydro-Québec Act (Section 30)
Leases
Public land access agreements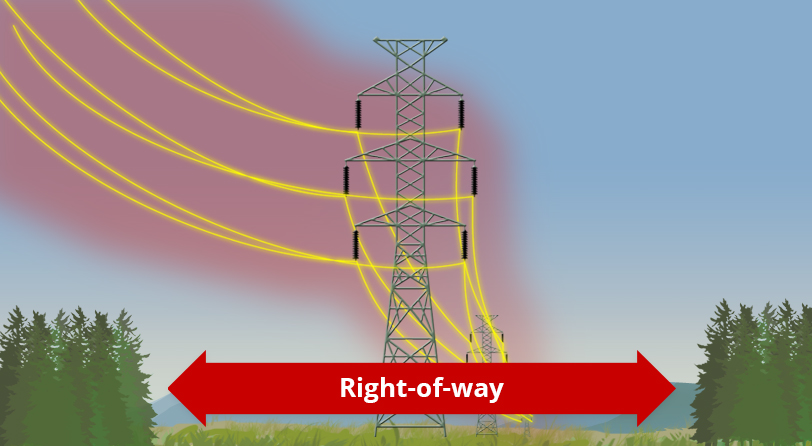 A transmission right-of-way is a strip of land used to install, operate, maintain and repair overhead and underground transmission lines. The width of a right-of-way depends on the voltage of the line, among other criteria.
In most cases, Hydro-Québec owns the land on which substations are installed. It also owns a number of transmission line rights-of-way.
Overhead and underground servitudes – Transmission lines
A servitude, also called an easement, is a property right confirmed by a notarial act that is enforceable against third parties. The act describes the rights and obligations of the parties and generally indicates the site (total area or geographic area) of the servitude on the land.
Transmission line servitudes, or easements, generally entail these rights and restrictions:
The right to operate, maintain and replace overhead and underground lines
The right to fell, prune, remove and destroy any type of vegetation (trees, shrubs, branches, roots) in the right-of-way
The right to fell, prune and remove any tree located outside the right-of-way and which could impede operations or maintenance
The right to remove any building or structure from the right-of-way as well as any personal and real property located within
The right to move about on foot or in a vehicle of any kind in the right-of-way
The prohibition against building or erecting a structure in the right-of-way, including underground and in the overhang, except for a gated fence
The prohibition against modifying the ground elevation
These rights may apply even when no electrical equipment is installed.
For example, a servitude may have been created to meet future needs. Also, the dismantling of a line in a right-of-way does not revoke the servitude. As long as there is a servitude on the land, it should be assumed that the electrical equipment (poles, towers, portal structures) is operational or may eventually be operated on the land.
To access a power line right-of-way or other facilities belonging to it, Hydro-Québec may use public roads or assert its right-of-way over private property under the Hydro-Québec Act and the Civil Code of Québec. Should this access result in damage, land owners will be compensated.
Important Notice
Before starting a project in a cleared corridor beneath a line (the right-of-way), check what is prohibited and what is allowed. Even if something is allowed, you must still obtain authorization.
Do you believe that Hydro-Québec has a servitude on property you own?
To determine whether there is a Hydro-Québec servitude on your property:
check your certificate of location
consult the Registre foncier du Québec (Québec land register)
contact your notary or a land surveyor
Hydro-Québec is not required to:
confirm the existence of a servitude or right on a piece of land
confirm the accuracy of a certificate of location
conduct a title search
determine who owns title to a piece of land
Note: Hydro-Québec may have real property rights even when servitudes do not appear in the Registre foncier (land register).