How to choose an ENERGY STAR® certified window
Learn how to choose the most suitable ENERGY STAR® certified windows, you will save energy and enjoy greater comfort!
1
Look for the ENERGY STAR® SYMBOL
Here's an example of a label with the ENERGY STAR® symbol indicating the zones for which the product is certified.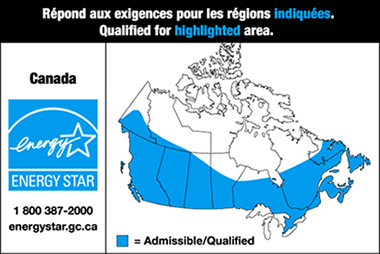 2
Find Out Your Climate Zone
ENERGY STAR® certified windows and patio doors sold in Canada meet precise energy efficiency criteria for three climate zones (1, 2 or 3). Québec covers two of them: zones 2 and 3. Find out which zone your nearest city or town is in.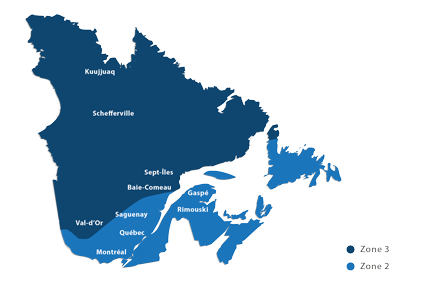 Climat zone 2 : Drummondville, Granby, Maniwaki, Mont-Joli, Montréal, Québec, Rimouski, Sherbrooke, Thetford Mines, Trois-Rivières, Bagotville, Roberval, Sainte-Anne-des-Monts, Gaspé
Climate zone 3 : Baie-Comeau, Natashquan, Sept-Îles, Val-d'Or, Inukjuak, Kuujjuaq, Nitchequon, Schefferville
3
Choose The Right Product For Your Zone
Products receive ENERGY STAR® certification based on their energy rating (ER). The higher the ER, the more energy-efficient the product. Once you've found out which climate zone you live in, choose a product with an appropriate ER value. For example, if you live in Zone 2, choose a product with an ER of at least 29.
Climat zone 2 : Minimum ER required 29
Climat zone 3 : Minimum ER required 34
The ER also makes comparison shopping easier. The ER value is calculated using a formula that balances a product's rate of heat transfer with its potential solar heat gain coefficient and its airtightness.
Source : Ressources naturelles Canada
To learn more about ENERGY STAR® certified windows and patio doors
4
Optimize Installation
Have windows and patio doors installed by a specialist to prevent heat loss and air leakage around the frames. Some retailers offer installation services.