SPECIAL OFFER
More than double the financial assistance! Receive up to $6,720 by opting for a top‑performing heat pump.*
Go to the Efficient Solutions Program page for more information on the financial assistance available to businesses.
*See the list of eligible heat pumps. Some conditions apply.
Contact us
1 833 396-1888
IMPORTANT: The application processing time is currently 10 to 12 weeks.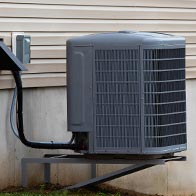 What is a heat pump?
A heat pump is an efficient electrical device that heats and cools your home. When you optimize its use, it consumes even less energy.
Did you know that, when it comes to heating your home in the colder months, a heat pump can be up to three times more efficient than baseboards? It's an excellent way to save on your electricity bill.
In the warmer months, it'll keep you just as cool as air-conditioning.
How does it work?
A heat hump doesn't generate heat: it moves it around. That's why it uses less energy than other heating devices.
Even in temperatures as low as −20°C, a low temperature heat pump (or cold climate heat pump) provides a good amount of heat to meet a large part of a home's heating needs. When it's cold, a heat pump combined with another heating system is one of the most cost-effective options on the market. Most air-source heat pumps have a minimal operating temperature below which they cannot operate. In newer models, it can vary between −15°C and −25°C. Below that temperature, an auxiliary system must be used to provide all the heating for the home.
Heat pumps: Some stand out.
SPECIAL OFFER – Get more than double the financial assistance: Opt for one of the top-performing heat pumps eligible for the Program.
Characteristics of the top-performing heat pumps:
They perform better during cold snaps, which means:

Savings up to 40% on your electricity bills during heating season
More constant heat and greater comfort
Reduced pressure on the power grid during peak demand periods, which benefits all Hydro‑Québec customers
See the list of eligible heat pumps and the eligibility criteria.
Important information
A heat pump can help you achieve significant savings on your electricity bill. To maximize those savings, choose a heat pump that is the right size based on your heating and air-conditioning needs.
Here are a few links to guide you:
Protect yourself!
Hydro-Québec is not associated with any heat pump provider and never conducts any solicitation by telephone or door-to-door. If an individual or company offers you unsolicited heat pump service on behalf of Hydro-Québec, it is likely a scam.
If you believe you are a victim of fraudulent solicitation: