Efficient Farming
Products Programs

Competition is stronger than ever, and you have every reason to adopt eco-responsible solutions that will set you apart.
Taking your farming business to the next level depends on the energy efficiency of your facilities. Whatever the nature of your farming activities, Hydro‑Québec provides efficient, cost-effective and sustainable solutions to optimize your electricity consumption and lower your operating costs.
Learn what's new as of June 2023!
To better meet your needs, as well as those of the current agricultural market, Hydro‑Québec is making new products and equipment available to you that will bring positive change to your projects and help you obtain long‑term growth.
A new form for your projects
With Hydro‑Québec's efficient solutions tool (Outil Solutions efficaces or OSE) form, you can assess the amount of the purchase rebate you may be eligible for, choose the best eligible products and equipment for you and propose a project.
The program offers a rebate on the purchase and installation of efficient products and equipment presented in the OSE form, particularly those used for lighting, milking equipment, piglet warmers and fans. The OSE form is available on the Hydro‑Québec website.
Financial assistance and recurring savings: a heat pump, the cost‑effective choice
Choose heat pumps for your buildings and you could receive substantial financial assistance covering eligible purchase and installation costs. Download the OSE tool to calculate the amount and send in your application.
*The amounts were increased on June 15.
Calculate the purchase rebate you could receive to carry out your projects.
The OSE tool gives you access to the measures under the Efficient Farming Products program, as well as over 200 measures for which the savings and rebates are calculated in advance.
The tool helps you:
validate the eligibility of the measures you've selected
assess the amount of financial assistance you may be entitled to receive
submit your request for financial assistance
OSE tool 4.0
Version in effect since June 15, 2023, and updated on September 6, 2023*
Download the OSE tool [exe 13 MB – in French only]
*PLEASE NOTE: The update on September 6, 2023, corrects the temperature that must be used to determine the heating capacity of certain heat pump models.
OSE tool 4.0
You don't see the download button? The OSE tool can only be installed and used on a computer with a Windows operating system.
Outil OSE 4.0*
Important: The OSE tool can only be installed and used on a computer with a Windows operating system.
Download the OSE too [EXE 13 MB - in French only]
*Make sure you use the version of the software that corresponds to your project start date. If you began your project prior to May 9, 2022, view this page to see which version you should use.
*PLEASE NOTE: The update on September 6, 2023, corrects the temperature that must be used to determine the heating capacity of certain heat pump models.
Watch this short video to learn how to use the OSE tool. [in French only]
Please note that the minimum purchase rebate threshold for measures under the Efficient Farming Products program is $100.
New equipment that qualifies for a purchase rebate
The OSE form now includes some new equipment selected based on the needs of the agricultural market.
The following new measures may be of interest to you:
Installation of efficient air compressors (max 200 hp)
Installation of a high-efficiency compressor integrated into a refrigeration system (max 100 T)
Installation of geothermal heat pumps
Installation of heat pumps with a mixed water loop system
Installation of aerothermal heat pumps
Installation of a thermal storage unit
Installation of variable-frequency drives (VFDs), pump motors and fan motors
Installation of a solar wall to preheat fresh air
Installation d'appareils de climatisation certifiés ENERGY STAR
IMPORTANT
With the OSE form, you can present different products and equipment in the same claim.
You can target more than one building in the agricultural market in the same OSE form provided the Hydro‑Québec contract numbers associated with the buildings in question are different.
The OSE form provides access to the confirmation of project completion, which you need to send to Hydro‑Québec in order to present your project.
Enhancement of applicable conditions
The modified conditions come into effect as of June 15, 2023.
Enhanced rebates for each LED lighting fixture for photosynthesis:
Rebates for horticultural LED lighting fixtures have been increased and are now determined separately based on the amount of natural sunlight in greenhouses and buildings.
Deadlines for submitting rebate claims:
Customers who purchase products included in the program are no longer required to submit their rebate claim and proof of purchase to Hydro‑Québec within a maximum of six months from the purchase date once the products have been installed.
Minimum rebate modified:
To be eligible, each rebate claim must qualify for a minimum rebate amount of $100.
Offers and programs
Is it time to replace some of your farming equipment or buy new equipment? Take advantage of the purchase rebates available under the Efficient Farming Products Program.
It pays to choose efficient farming products!
Transitional rules
The program terms and conditions were modified on June 15, 2023. As a result, if you took steps to participate in the program before that date, please refer to the transitional rules.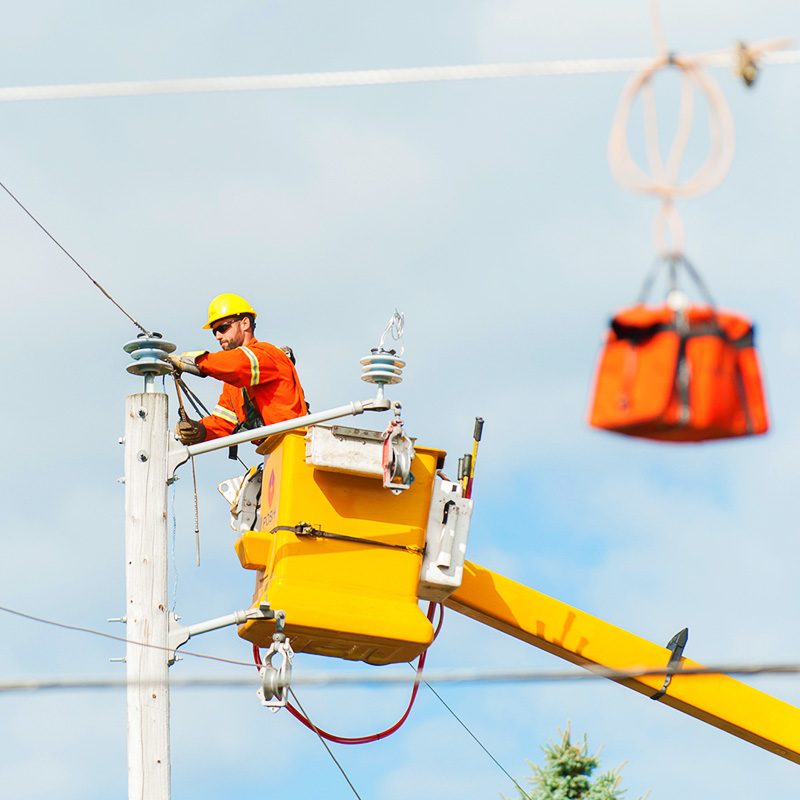 Rates and rate options
Our rates are based on the consumption profile of our different customer categories. See our Rates and rate options page to learn more.
How can we help you?
Have any questions? Call or email us.
Business newsletter
Stay informed on our energy efficiency programs and our demand response offers.