Choose Québec and plug into:
How substantial could your savings be? Let's look under the hood.
Rate comparison in North America
Comparative index of electricity prices
Large-power customers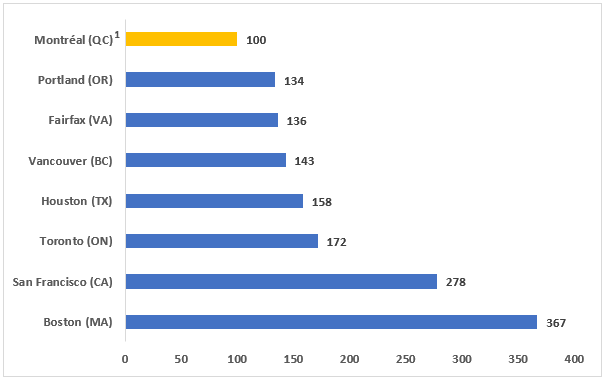 Rates and options*
Our low, stable rates give your business a competitive edge and boost your bottom line. A range of rates and rate options are available, tailored to your usage:
Business customer Rate LG (large power)
Business customer Rate M (medium power)
| Example of rates | C¢/kWh | US¢/kWh |
| --- | --- | --- |
| Large-power rate (LG) | 5.18 | 4.14 |
Assumptions:
Exchange rate: C$1 = US$0.7992, as at April 1, 2022.
Rate LG (large power with minimum billing demand of 5,000 kW or more) effective April 1, 2022 (transmission and distribution included) for 120‑kV supply with 95% load factor.
Hydro‑Québec's rates are regulated by Québec's Régie de l'énergie and are indexed according to the Hydro-Québec Act (CQLR c H-5). Eligibility for a given rate depends on certain conditions. To determine your facility's eligibility for a rate, contact us or visit Hydro-Québec's electricity rates.
Applicable taxes not included (GST and QST).
*Rates and eligibility conditions are subject to change without notice. Hydro-Québec assumes no responsibility for any costs or expenses incurred or which may be incurred due to a change made to the rates or eligibility conditions. Contracts for data centers are no longer eligible for the Economic Development Rate.
Stable rates
Hydro-Québec customers enjoy a solid history of rate stability, with the lowest rise in price of any type of energy. The average annual rate increase for the last 20 years is 1.4%.
Price changes over time
Energy efficiency: We've got it down to a science!
Looking for ways to lower your building's energy consumption and improve your power usage effectiveness (PUE) ratio?
By taking advantage of our Efficient Solutions Program, you can improve your facility's energy efficiency and cost-effectiveness while reducing your carbon footprint.
0.16C$/kWh (based on an exchange rate of C$1 = US$0.80, as of July 28, 2017)
0.18C$/kWh (based on an exchange rate of C$1 = US$0.80, as of July 28, 2017)
For more information:
datacenter@hydro.qc.ca
1 888 29-HYDRO (1 888 294-9376)
We're open Monday to Friday, 8:30–4:30, EST.