Low, stable rates: that's a big deal.
Québec boasts some of the lowest and most stable electricity rates in North America.

Choose Québec and plug into:
How substantial could your savings be? Let's look under the hood.
Look interesting? Let's talk!
Rate comparaison
Comparative index of electricity prices
Large-power customers
Rates and options*
Our extremely low, stable rates give your business a competitive edge and boost your bottom line. A range of rates and pricing options are available, tailored to your usage:
Additional rate option for eligible clients: Economic Development Rate (EDR) offers a reduction of up to 20% of these rates:2
Optional Demand Response program (DRP):

Our Demand Response program encourages businesses to reduce their power demand during Hydro-Québec's peak winter periods. By participating, you get financial assistance from Hydro-Québec, and we get to meet our customers' power needs. Win-win!
| Examples of rates | C¢/kWh | US¢/kWh 1 |
| --- | --- | --- |
| Large-power rate (LG)2 | 4.98 | 3.50 |
| Large-power rate + TDE (if eligible)3 | 3.98 | 2.80 |
Assumptions:
Exchange rate: C$1 = US$0.7034, as at April 1, 2020.↩
Rate LG (large power with minimum billing demand of 5,000 kW or more) effective April 1, 2019 (transmission and distribution included) for 120-kV supply with 95% load factor.
Includes Economic Development Rate reduction of 20% (if eligible). A gradual transition to undiscounted Rate LG follows over three years before the reduction expires in 2027.↩
Hydro-Québec's rates are approved by Québec's regulatory body, the Régie de l'énergie. Eligibility for a rate depends on certain conditions. To determine your eligibility for a rate, contact us or visit Hydro-Québec's electricity rates.
Applicable taxes not included. ↩
*Rates and eligibility conditions are subject to change without notice. Hydro-Québec assumes no responsibility for any costs or expenses incurred or which may be incurred due to a change made to the rates or eligibility conditions.
Stable rates: tried, tested and true!
Hydro-Québec customers enjoy a solid history of rate stability, with the lowest inflation rate of any type of energy:
The average annual rate increase for the last 20 years is 1.4%
Hydro-Québec has committed to keeping increases at or below the rate of inflation until 2020
Because Hydro-Québec's electricity is more than 99% produced from water and wind, our rates are not subject to the volatility of oil and gas prices
It's a low-cost option you can count on. See for yourself!
Price stability you can see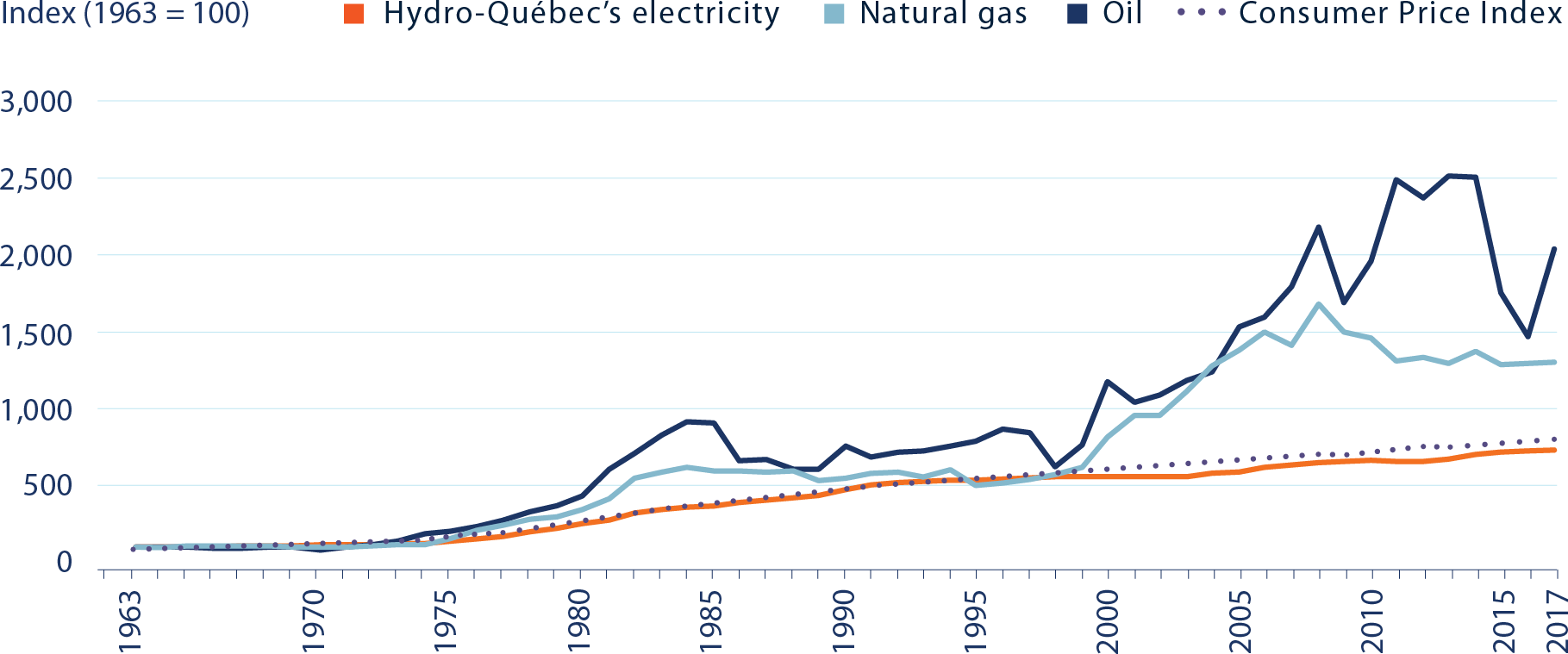 Operating costs that make business sense
Of these eight potential North American data center locations, Montréal boasts the lowest property costs, the lowest utility costs, and the second-lowest labor costs. At US$2.19 million a year, it enjoys the lowest overall operating costs: 28% lower than the average of US$3.24 million (source of data: Financial Times).
As you know, the lower you keep these numbers, the more hard-earned revenue stays in your business.
It's a no brainer.
Total annual operating costs overview

Say so long to REC reliance with over 99% clean energy
Paying one of the lowest energy rates in North America gives your business an instant advantage. And with over 99% of our electricity generated mainly using water and wind, the need to compensate for GHG emissions with Renewable Energy Certificates (RECs) becomes a thing of the past—and that makes you a leader for the future.
Sound too good to be true? Yeah, we get that a lot!

PUE: Keeping the ratio low
When it comes to energy usage, low numbers make everyone happy. Some of Hydro-Québec's customers have a power usage effectiveness (PUE) ratio of 1.1. What's your number?
Energy efficiency: we've got it down
We excel at energy efficiency. We can help you lower your building's energy consumption and your PUE ratio.
We offer a grant to help you improve your facility's energy and cost efficiency, PUE and eco-friendliness. Subject to eligibility requirements, the grant for eligible annual electricity represents up to US$0.13/kWh in savings for new businesses, and US$0.14/kWh for existing businesses.
Allow us to show you around our energy efficiency offers that have been specially adapted for data centers.
Nobody keeps their cool like Québec
Thanks to its favorable location in the north, Québec enjoys a climate that supports the optimal use of cooling systems, which reduces operating costs. Because it's frequently cold outside, free water-cooling is possible for more than 60% of the year.
Water-side free cooling is possible for more than 60% of the year.
City
Québec (QC)
Montréal (QC)
Quincy (WA)
New York (NY)
Lenoir (NC)
Ashburn (VA)
San José (CA)
Dallas (TX)
Jacksonville (FL)
Average annual temperature

4,0°C

39.2°F

6,8°C

44.2°F

10,3°C

50.5°F

12,9°C

55.2°F

14,0°C

57.2°F

14,1°C

57.4°F

15,4°C

59.7°F

18,7°C

65.7°F

20,0°C

68°F
0.16C$/kWh (based on an exchange rate of C$1 = US$0.80, as of July 28, 2017)
0.18C$/kWh (based on an exchange rate of C$1 = US$0.80, as of July 28, 2017)
1 888 29-HYDRO (1 888 294-9376)
We're open Monday to Friday, 8:30–4:30, EST.
datacenter@hydro.qc.ca
Our experts will walk you through the entire process, from the draft-design phase
to integration to getting your data center up and running.